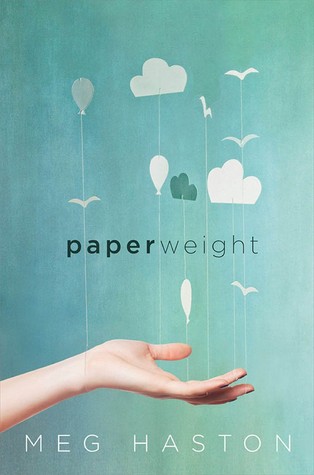 Title: Paperweight
Author: Meg Haston
Publisher: HarperTeen
Release date: July 7th 2015
Pages: 304
Genre: Young Adult contemporary
Source: Edelweiss - I received a free advance eGalley from the publisher in exchange for an honest review. Thanks!
Add to Goodreads | Puchase from Amazon
Seventeen-year-old Stevie is trapped. In her life. In her body. And now in an eating-disorder treatment center on the dusty outskirts of the New Mexico desert.
Life in the center is regimented and intrusive, a nightmare come true. Nurses and therapists watch Stevie at mealtime, accompany her to the bathroom, and challenge her to eat the foods she's worked so hard to avoid.
Her dad has signed her up for sixty days of treatment. But what no one knows is that Stevie doesn't plan to stay that long. There are only twenty-seven days until the anniversary of her brother Josh's death—the death she caused. And if Stevie gets her way, there are only twenty-seven days until she too will end her life.
My rating: 4 out of 5 stars
I've read a lot of books about eating disorders, but Paperweight blew me away like no other since Laurie Halse Anderson's masterpiece Wintergirls. With a complex main character who experiences tremendous growth and a richly layered story of self-acceptance, Meg Haston's YA debut has me very impressed.
It's fascinating to be inside Stevie's mind. I've read some other reviews saying they didn't like Stevie and found it hard to connect to her, and while I can see where they're coming from - obviously, she doesn't always make the best choices, and she's very reluctant to heal - I absolutely loved her. Her actions can definitely be frustrating, but she's such a realistic character, and with her motivations laid out in such depth and honesty, it was hard not to feel for her. Her eating disorder, as well as her other issues, are explored in harrowing honesty, making you go back and forth between wanting what's best for Stevie but also understanding how her inner demons fight so hard against just that.
The whole set-up of the treatment center was intriguing - it's fascinating to read about how they go about 'fixing' something so all-encompassing and seemingly unsurmountable, and to see the effects of therapy in Stevie's thinking processes. I especially loved Stevie's relationship with her therapist Anna - so many books I've read portray therapists as either completely useless or as an underdeveloped, unrealistic solution to the main character's problems. Anna is neither of those things - she develops a great, witty rapport with Stevie and helps her in just the right ways, but Stevie's inner strength is still what ultimately save her, rather than any outside forces.
I also loved the other girls in the treatment center and the relationships they formed with Stevie, especially Ashley. Their relationships are a fascinating combination of competition and friendship - they're all evaluating each other and comparing their bodies, and the anorexics feel superior to the bulimics, but they also build some very strong bonds. I really liked seeing the spectrum of eating disorders, and the girls' different reasons for developing them.
I'm not sure how I felt about the storylines concerning Stevie's issues other than her eating disorder. I really liked reading about the family dynamics, even though I wish there had been more of a confrontation between Stevie and her mom. How Stevie's brother's death relates to her eating disorder, though, was kind of strange: currently, her goal is to starve herself to death as punishment for having killed her brother. But Stevie's eating disorder developed long before her brother's death, and we get some glimpses into how that relates to her mother, but I still wished we had gotten to see more of how all of this first started. Stevie's relationship with Eden is fascinating, too, but I felt like it was lacking some kind of final conflict or resolution. I did appreciate, though, that there is no romance, other than the destructive sort-of relationship with Eden - rather than some romantic interest swooping in and saving Stevie, she really does save herself.
Paperweight was a hard novel to read, but it was most definitely worth it. It reads like a very personal, intimate story, but one that needs to be told. With a gripping voice and an intriguing main character who undergoes realistic character growth, Paperweight offers harrowing insights into eating disorders and depression. For anyone who enjoys darker YA novels, this one is a must!