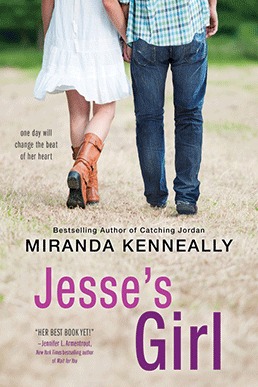 Title: Jesse's Girl (Hundred Oaks)
Author: Miranda Kenneally
Publisher: Sourcebooks Fire
Release date: July 7th 2015
Pages: 304
Genre: Young Adult contemporary romance
Source: Edelweiss - I received a free advance eGalley from the publisher in exchange for an honest review. Thanks!
Add to Goodreads | Puchase from Amazon
Everyone at Hundred Oaks High knows that career mentoring day is a joke. So when Maya Henry said she wanted to be a rock star, she never imagined she'd get to shadow *the* Jesse Scott, Nashville's teen idol.
But spending the day with Jesse is far from a dream come true. He's as gorgeous as his music, but seeing all that he's accomplished is just a reminder of everything Maya's lost: her trust, her boyfriend, their band, and any chance to play the music she craves. Not to mention that Jesse's pushy and opinionated. He made it on his own, and he thinks Maya's playing back up to other people's dreams. Does she have what it takes to follow her heart—and go solo?
My rating: 4 out of 5 stars
I've been a huge fan of Miaranda Kenneally ever since her debut Catching Jordan, and I've loved each of her Hundred Oaks books since, so of course I had high expectations for Jesse's Girl. I ended up being a little bit disappointed because I didn't love Jesse's Girl quite as much as Miranda Kenneally's previous books, but that's really just because of my high expectations - Jesse's Girl is still a cute romance I really enjoyed.
I always love Miranda Kenneally's heroines, and Maya is no exception. Maya is such a strong character - she's strong and feisty, especially in her attitude towards Jesse in the beginning, but she also has some insecurities about her musical abilities and about how she needs to keep her guard up in order not to get hurt. I loved this combination - Maya is definitely a strong addition to the Hundred Oaks girls!
Almost as much as the main characters, I always love the Hundred Oaks love interests - Miranda Kenneally can write a realistic romance like no other! Jesse is a complex character that I loved to see open up over the course of the novel. The whole celebrity thing is an old trope and easily could have become a cliche, but these unique characters make it work. Maya's and Jesse's connection begins over the course of just one day, but the term insta-love never entered my mind while reading. I loved their chemistry and how these two complement each other perfectly!
Most of Miranda's characters have been into sports, but I really enjoyed seeing her tackle music in this one. Even though my taste is very different from both Maya's and Jesse's, I really enjoyed reading about their passion for music. Her music was a great way to see Maya grow over the course of the novel. Even though it is pretty cliched and has definitely been done before, I loved reading about Maya's auditions for the American Idol-esque show in this book. Miranda Kenneally's writing is so vivid and makes the pages just fly; that's what made all of this work.
Even though I loved all of these elements, I still thought there was something missing, in comparison to the amazing Keanneally books I had previously read. It might have just been that Maya and Jesse's relationship is pretty drama-free and there's not typical climax and main conflict. It feels wrong to complain about that because I loved their relationship the way it is, but I just wanted something more from the plot, even though I can't put my finger on what exactly that would be.
I don't think Jesse's Girl will stay with me as much as some of the previous Hundred Oaks books have, but I did really enjoy it. Miranda Kenneally's writing impresses me every time - her books are the kind you can just fly through without realizing you've spent hours reading and are almost to the end. Jesse's Girl is another cute, fun read with a little bit of depth, too. This one isn't my favorite of the series so I'm not sure I would recommend starting with this one, but if you haven't read any of Miranda Kenneally's books, you really need to!
_____
As part of this tour, you can win a $50 iTunes gift card! To enter, fill out the form below:
a Rafflecopter giveaway