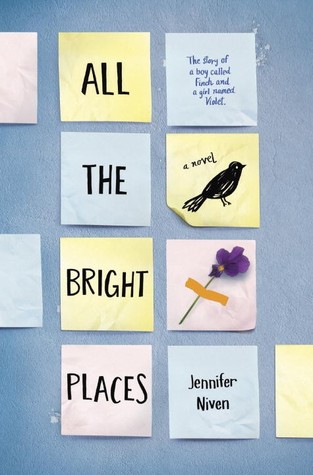 Title: All the Bright Places
Author: Jennifer Niven
Publisher: Knopf
Release date: January 6th 2015
Pages: 384
Genre: Young Adult contemporary
Source: NetGalley - I received a free advance eGalley of this book from the publisher in exchange for an honest review. Thanks!
Add to Goodreads | Purchase from Amazon
Theodore Finch is fascinated by death, and he constantly thinks of ways he might kill himself. But each time, something good, no matter how small, stops him.
Violet Markey lives for the future, counting the days until graduation, when she can escape her Indiana town and her aching grief in the wake of her sister's recent death.
When Finch and Violet meet on the ledge of the bell tower at school, it's unclear who saves whom. And when they pair up on a project to discover the "natural wonders" of their state, both Finch and Violet make more important discoveries: It's only with Violet that Finch can be himself-a weird, funny, live-out-loud guy who's not such a freak after all. And it's only with Finch that Violet can forget to count away the days and start living them. But as Violet's world grows, Finch's begins to shrink.
My rating: 4 out of 5 stars
All the Bright Places is a quiet kind of gem. I didn't notice how great it was until I was almost through with it; but it really is heartbreaking, moving story. I had heard good things about it, but I was not prepared for how great this novel really is. I'm convinced that this will be one of the big hits of dark, moving contemporaries in 2015.
Honestly, this novel took a while to grow on me. In the beginning, the pacing is kind of slow, and it doesn't really pick up until about halfway through. But looking back now, I don't even know if that's necessarily a bad thing - it totally works for the story. That's how I felt about the writing, too: it's really sparse, and Jennifer Niven does that thing where she'll start ever chapter with two sentences just telling you where and when this scene is set, which I'm nota huge fan of. But again, it works: the sparse writing really lets the characters' honest voices shine. So if you're not in love with the novel right away, please stick with it; it totally works once you make it through the beginning.
The characters are complex and realistic. I absolutely loved Violet and related to her 100 percent. I had a bit of a harder time with Finch, even though he's the more unique of the two characters - it was just really hard for me to get a clear picture of him, because his behavior is so confusing and contradictory. But since that's kind of the point, he's still a very well-written character; I personally just connected more with Violet. The relationship between the two of them is perfect in its imperfections; I love how realistic the portrayal is. The romance develops really slowly, making you hope for the two of them to get together long before they actually do, which is just the way I like it. The secondary characters are fully realized, too - I loved finding out more about the other kids at school, and there's some complicated family storylines as well.
I can't put my finger on what exactly makes this book so great; it's really just the feelings it conveys. It covers a looong span of time, which is different from what I'm used to and gives the novel a slightly more adult feel, but it really makes you feel the heartbreak as well as the hopefulness because you get to witness the whole progression of the story. Messy would be the perfect word to describe the events of All the Bright Places, especially the second half: I was surprised by how dark it gets halfway through, but I really liked it. That plot twist is kind of a bold move because I don't know how other readers will feel about it, but I for one loved the way the story unfolded and definitely preferred it over an unrealistic happy ending. In some parts, I felt like the novel was trying a bit too hard to be deep and emotional, like with all the Virginia Wolf quotes and fancy language; I don't think all of that was necessary because the story itself is already so emotional, it doesn't need any additions. But in general, I loved how heartbreaking and emotional this novel is.
If you enjoy quiet, emotional contemporaries, you definitely need to keep your eyes out for this one. It might take a while to grow on you, but it's worth it: All the Bright Places is a heartbreaking but hopeful, emotional and honest story with characters that will stay with you. I can't recommend it enough!