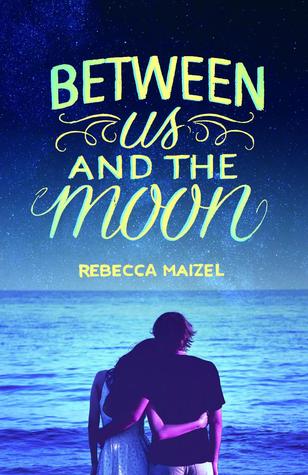 Title: Between Us and the Moon
Author: Rebecca Maizel
Publisher: HarperTeen
Release date: June 30th 2015
Pages: 384
Genre: Young Adult contemporary romance
Source: Edelweiss - I received a free advance copy of this book from the publisher in exchange for an honest review. Thanks!
Add to Goodreads | Purchase from Amazon
Ever since Sarah was born, she's lived in the shadow of her beautiful older sister, Scarlett. But this summer on Cape Cod, she's determined to finally grow up. Then she meets gorgeous college boy Andrew. He sees her as the girl she wants to be. A girl who's older than she is. A girl like Scarlett.
Before she knows what's happened, one little lie has transformed into something real. And by the end of August, she might have to choose between falling in love, and finding herself.
My rating: 3 out of 5 stars
Between Us and the Moon took me a long time to get into. For the first 100 pages or so, I was sure I was going to hate this book, and I even considered DNF'ing it because it was so frustrating to read. But I'm so glad I didn't - over the course of the story, the book got so much better, and I ended up really liking it!
The reason the beginning is so frustrating is really just the main character Sarah. She is ridiculously immature in the beginning, and I know that makes sense, considering she's fifteen, but she makes some really stupid decisions. I get that she wants to be different after what her ex-boyfriend and her family tell her, but the way she goes about it is almost painful to read. How she steals her sister's clothes and says really stupid stuff because she thinks it will get people to like her is pitifully desperate. I know this is intentional, that she needed to be like this for the character growth over the course of the novel to work, and I did like Sarah towards the end. But that doesn't make the beginning any less frustrating to read.
And, of course, there's the lying to Andrew. At first it made sense, when Andrew was just someone she met once and wanted to impress as part of her turning-into-Scarlett scheme. But I started to get annoyed when their relationship progressed and she went on so long without telling him, not even considering how her actions might impact him. It's not like she tried and it was always a bad time or something; she had plenty of opportunities to tell Andrew the truth and just... doesn't. Since this goes on for so long, I was frustrated with Sarah about this for most of the novel.
I did love the character growth Sarah undergoes over the course of the novel; it's realistically done and well-written. I loved Andrew, his backstory and how he treats Sarah, but I appreciated how romance is not the main focus, letting Sarah's own story of personal development take center stage.
I was pleasantly surprised by the ending - I thought this would be a very predictable story, but I really appreciated the realistic, unusual way to end this novel. I just wish Sarah's family had played more of a role in the ending - her issues with her family are an important part of the novel, and I loved everything about Gran and the development of Sarah's relationship with Scarlett. But I wish we could have seen Sarah's relationship with her parents evolve more towards the end.
Between Us and the Moon was a bit of an emotional roller-coaster, with the amount of times I wanted to slap Sarah and the times I wanted to hug her. I'm very glad I didn't give up on this book in the beginning because the development Sarah undergoes is very worth it. I recommend Between Us and the Moon if you're looking for a contemporary YA with well-written character development, as long as you can handle how incredibly frustrating Sarah is in the beginning.