Bookish Anticipation is a feature I do every once in a while to spotlight future releases I'm excited for. It was inspired by Breaking the Spine's Waiting on Wednesday. You can check out more of my Bookish Anticipation posts
here
.
Violent Ends by Shaun Hutchinson
Release date: September 1st 2015
It took only twenty-two minutes for Kirby Matheson to exit his car, march onto school grounds, enter the gymnasium, and open fire, killing six and injuring five others.
But this isn't a story about the shooting itself. This isn't about recounting that one unforgettable day.
This is about Kirby and how one boy—who had friends, enjoyed reading, played saxophone in the band, and had never been in trouble before—became a monster capable of entering his school with a loaded gun and firing on his classmates.
Each chapter is told from a different victim's viewpoint, giving insight into who Kirby was and who he'd become. Some are sweet, some are dark; some are seemingly unrelated, about fights or first kisses or late-night parties.
This is a book of perspectives—with one character and one event drawing them all together—from the minds of some of YA's most recognizable names.
My Secret to Tell
by Natalie D. Richards
Release date: October 6th 2015
Emmie's had a crush on her best friend's brother forever. Deacon is the town bad boy who's always in trouble, but she sees his soft side when he volunteers with her at the local animal shelter. She doesn't think he's dangerous…until he shows up in her bedroom with blood on his hands.
Deacon's father has been violently assaulted and Deacon is suspect number one. Emmie's smart enough to know how this looks, but she also knows Deacon's biggest secret—he's paralyzed by the sight of blood. She's sure he didn't do this. Or did he? Because even Deacon's own sister thinks he's guilty…
Very in Pieces by Megan Frazer Blakemore
Release date: September 29th 2015
Very Sales-Woodruff is done being a good girl. Done being the only responsible one in a family that's unraveling. Done being the obliging girlfriend in a relationship that's sinking. Done saying no to what she wants—like Dominic, her rebellious classmate.
With her mom's drinking, her dad's extended absences from home, and her younger sister, Ramona, running wild, the path Very has always seen for herself doesn't seem to matter anymore. At the same time, Very's grandmother, a poet known less for her work and more for her exploits with the likes of Andy Warhol and Arthur Miller, is slipping away.
If everything else can fall to pieces, why can't she?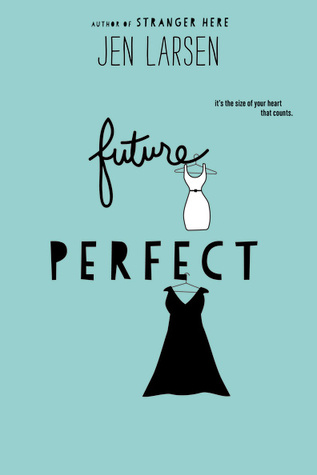 Future Perfect by Jen Larsen
Release date: October 6th 2015
Every year on her birthday, Ashley Perkins gets a card from her grandmother—a card that always contains a promise: lose enough weight, and I will buy your happiness.
Ashley doesn't think there's anything wrong with the way she looks, but no amount of arguing can persuade her grandmother that "fat" isn't a dirty word—that Ashley is happy with her life, and her body, as it is.
But Ashley wasn't counting on having her dreams served up on a silver platter at her latest birthday party. She falters when Grandmother offers the one thing she's always wanted: tuition to attend Harvard University—in exchange for undergoing weight loss surgery.
As Ashley grapples with the choice that little white card has given her, she feels pressured by her friends, her family, even administrators at school. But what's a girl to do when the reflection in her mirror seems to bother everyone but her?
Through her indecisions and doubts, Ashley's story is a liberating one—a tale of one girl, who knows that weight is just a number, and that no one is completely perfect.
One by Sarah Crossan
Release date: September 15th 2015
Tippi and Grace share everything—clothes, friends... even their body. Writing in free verse, Sarah Crossan tells the sensitive and moving story of conjoined twin sisters, which will find fans in readers of Gayle Forman, Jodi Picoult, and Jandy Nelson.
Tippi and Grace. Grace and Tippi. For them, it's normal to step into the same skirt. To hook their arms around each other for balance. To fall asleep listening to the other breathing. To share. And to keep some things private. The two sixteen-year-old girls have two heads, two hearts, and each has two arms, but at the belly, they join. And they are happy, never wanting to risk the dangerous separation surgery.
But the girls' body is beginning to fight against them. And soon they will have to face the impossible choice they have avoided for their entire lives.
Rules for Stealing Stars by Corey Ann Haydu
Release date: September 29th 2015
Silly is used to feeling left out. Her three older sisters think she's too little for most things—especially when it comes to dealing with their mother's unpredictable moods and outbursts. But for Silly, that's normal. She hardly remembers a time when Mom wasn't drinking.
This summer, Silly is more alone than ever, and it feels like everyone around her is keeping secrets. Mom is sick all the time, Dad acts like everything's fine when clearly it isn't, and Silly's sisters keep whispering and sneaking away to their rooms together, returning with signs that something mysterious is afoot, and giggling about jokes that Silly doesn't understand.
When Silly is brought into her sisters' world, the truth is more exciting than she ever imagined. The sisters have discovered a magical place that gives them what they truly need: an escape from the complications of their home life. But there are dark truths there, too. Silly hopes the magic will be the secret to saving their family, but she's soon forced to wonder if it just might tear them apart.
What releases are you anticipating this week?