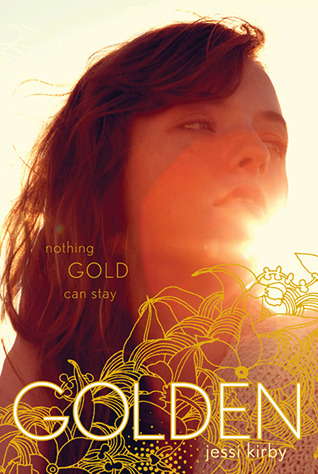 Title: Golden
Author: Jessi Kirby
Publisher: Simon & Schuster BYR
Release date: May 14th 2013
Pages: 278
Genre: Young Adult contemporary
Source: Bought
Add to Goodreads | Puchase from Amazon
Seventeen-year-old Parker Frost has never taken the road less traveled. Valedictorian and quintessential good girl, she's about to graduate high school without ever having kissed her crush or broken the rules. So when fate drops a clue in her lap—one that might be the key to unraveling a town mystery—she decides to take a chance.
Julianna Farnetti and Shane Cruz are remembered as the golden couple of Summit Lakes High—perfect in every way, meant to be together forever. But Julianna's journal tells a different story—one of doubts about Shane and a forbidden romance with an older, artistic guy. These are the secrets that were swept away with her the night that Shane's jeep plunged into an icy river, leaving behind a grieving town and no bodies to bury.
Reading Julianna's journal gives Parker the courage to start to really live—and it also gives her reasons to question what really happened the night of the accident. Armed with clues from the past, Parker enlists the help of her best friend, Kat, and Trevor, her longtime crush, to track down some leads. The mystery ends up taking Parker places that she never could have imagined. And she soon finds that taking the road less traveled makes all the difference.
My rating: 4 out of 5 stars
Jessi Kirby has impressed me yet again, with another beautifully written contemporary. Jessi Kibry's books are usually unassuming in the best way, the kind of books where you can't put your finger on what exactly makes them so good. Her writing effortlessly makes you get lost in a new world, and I loved getting lost in Parker's and Julianna's stories.
Jessi Kirby's writing is gorgeous, and it's always what carries her novels. Her writing style is emotional, honest, and poignant. It's rich in lines that will make you want to stop and think, while at the same wanting to never stop reading. At times, I was thinking that the writing was too good, too beautiful, considering this is supposed to be a journal, but then I decided that I don't care as long as I get to keep reading these gorgeous words.
Parker is a strong main character. She does fit into the standard YA MC trope of the quiet, studious girl that needs to get out of her shell, but she's so well-written that I think it works. She's easy to relate to and feel for, with a strong voice and impressive character growth over the course of the novel. Even though we don't get to read from her perspective for very long, I also grew to love Julianna through the pages of her journal. I also loved Kat, the spunky best friend, and Trevor, the slow-burn love interest done just right. I just wish we could have gotten some more insights into Parker's parents' characters, especially towards the end.
The mystery is okay. In the beginning, it's very intriguing, and I like how it starts out with this facade of perfection that slowly comes crumbling down. I really liked what the mystery meant to Parker - her emotional investment in it rings true, and it works really well with her personal development. The actual mystery, though, isn't too impressive, in my opinion. The main points are fairly predictable, and I kept hoping there would be more to it, but... there wasn't. The motivations behind what happened ten years ago aren't strong enough to justify what happened, in my opinion, making this seem more like a device to develop Parker's character, rather than an independently strong storyline.
But that's okay - Parker's character development is enough to carry the story. If you're in it for the mystery, there's definitely stronger YA mysteries out there, but if you're looking for a strong contemporary with some mystery elements, Golden is perfect for you. Jessi Kirby continues to impress me with her breathtakingly beautiful writing and effortless ability to write characters and worlds you're immediately immersed in. I can't recommend her books enough!