Today we have Miranda Kenneally here for an author interview! This interview is part of the blog tour for Jesse's Girl.
1.
A lot of the previous Hundred Oaks books have been focused on some kind of sport - what made you want to write about music in Jesse's Girl instead?
I just love music and wanted to write about it. ! I grew up singing and performing, and was in my high school's show choir. I still (poorly) sing along to the radio.
2. I've loved all of your books, but I think Breathe, Annie, Breathe was my favorite (so far!). I know I'm horrible for asking this and making you choose, but which one of your books is your personal favorite? Or which one is most important to you, personally?
Thank you! Breathe, Annie, Breathe is the book I'm proudest of in terms of my writing, while Catching Jordan and Jesse's Girl were the most fun to work on.
3. If you had to set up Maya with another main character from your previous books, which one do you think she could be BFFs with and why?
I think Maya would get along great with Savannah. Both girls are sassy, stand up for themselves, know how to have fun, and love kissing (but who doesn't? *wink*).
4.
Without spoiling anything, could you tell us what was your favorite scene to write in Jesse's Girl?
Probably the scene where Jesse takes Maya to his favorite spot: his secret fishing hole where his great-grandfather used to bring him as a little boy. Maya decides to shove Jesse into the water, and much chasing him around in his underwear ensues.
5. How do you go about naming your characters?
Generally I first see if the perfect name pops into my mind. If not, I consult BabyNames.com ;-)
Make sure to check out all the other stops of the blog tour, and keep your eye out for Jesse's Girl, which comes out today! You can check out my review here.
This is what the book is all about: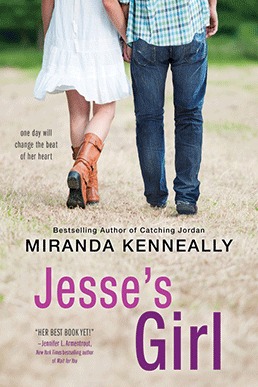 Jesse's Girl by Miranda Kenneally
Everyone at Hundred Oaks High knows that career mentoring day is a joke. So when Maya Henry said she wanted to be a rock star, she never imagined she'd get to shadow *the* Jesse Scott, Nashville's teen idol.
But spending the day with Jesse is far from a dream come true. He's as gorgeous as his music, but seeing all that he's accomplished is just a reminder of everything Maya's lost: her trust, her boyfriend, their band, and any chance to play the music she craves. Not to mention that Jesse's pushy and opinionated. He made it on his own, and he thinks Maya's playing back up to other people's dreams. Does she have what it takes to follow her heart—and go solo?