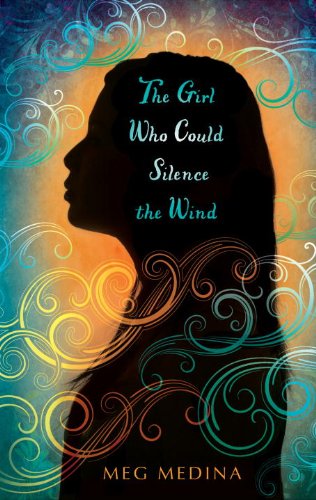 Title: The Girl Who Could Silence the Wind
Author: Meg Medina
Publisher: Candlewick Press
Release date: March 13th 2012
Pages: 256
Genre: YA; magical realism
Source: NetGalley - thank you to Candlewick and NetGalley for providing a free eGalley of this book in exchange for an honest review.
Find out more:
Amazon
| Goodreads
Goodreads description:
Sixteen-year-old Sonia Ocampo was born on the night of the worst storm Tres Montes had ever seen. And when the winds mercifully stopped, an unshakable belief in the girl's protective powers began. All her life, Sonia has been asked to pray for sick mothers or missing sons, as worried parents and friends press silver milagros in her hands. Sonia knows she has no special powers, but how can she disappoint those who look to her for solace? Still, her conscience is heavy, so when she gets a chance to travel to the city and work in the home of a wealthy woman, she seizes it. At first, Sonia feels freedom in being treated like all the other girls. But when news arrives that her beloved brother has disappeared while looking for work, she learns to her sorrow that she can never truly leave the past or her family behind.
First sentence:
The curse on Sonia Ocampo's life came without warning before she was even born, leverly disguised as good luck.
My rating: 2 out of 5 stars
I was really excited to read The Girl Who Could Silence the Wind. The cover is gorgeous, and it sounded like something a little different from the contemporary I usually read, but still close enough to real life to appeal to me. But sadly, it didn't work for me.
In the beginning, I still liked The Girl Who Could Silence the Wind. The atmosphere is really well-written, and I liked the descriptions of Sonia's life in Tres Montes. I felt like I was there with the family, even though my life is about as far away as you can get from Sonia's. I really enjoyed reading about what life is like in the small, poor town. But after that, things went downhill for me.
The writing stays good. It's vivid and beautiful, with great imagery. The writing is what kept me reading and what carries the book, in my opinion.
The rest, though, just didn't work for me. I liked Sonia when we're in Tres Montes with her, but once she leaves to go to the capital, I lost any kind of connection I had with her. In Tres Montes, she has a personality - the way she's smothered by people wanting her to help them with her powers makes her a sympathetic character. Once she gets to the capital, though, and the focus shifts from her special ability, I found her very bland. I get that that's kind of the point - she likes not being treated any different from the rest of the girls, but still. Sonia has no real personality, so I was kind of bored with her.
The secondary characters are... well, they're pretty bland, too. We're told a little bit about them, but I never saw that reflected in their actions. There are no patterns in their behavior, nothing that gives them any kind of personality. Sometimes, I even had trouble remembering who's who, since they're all so similar. That counts for the girls Sonia works with in the city as well as the people back in Tres Montes. I didn't even like the romance between Sonia and Pancho - their strong feelings develop way too suddenly to be realistic.
The plot didn't really work for me, either. I liked all the ideas of what happens, but I found the execution lacking. There are a lot of plot holes. I don't want to get into all of them in order not to spoil it for anyone, but there are several times in the story where I found myself wondering whether I'd missed something because it just didn't make sense. One example I can give without spoiling anything is how Sonia reacts when she reads in a letter from her parents that her brother is missing. Her brother Rafael told her before she left that he was planning on running away and finding work up north, so his disappearance shouldn't surprise Sonia. When she gets the letter, though, she's devastated and terrified something happened to Rafael. Her worrying starts one of the main storylines, but it just doesn't make sense. And there are a lot of plot holes like that.
The Girl Who Silenced the Wind has beautiful, atmospheric writing, so if you're in it just for the writing, I do recommend it. But the plot holes and bland characters made it hard for me to get into the story, so I didn't particularly enjoy it.
If you've read this book, what did you think?