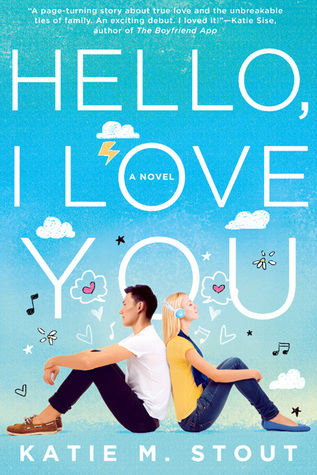 Title: Hello, I Love You
Author: Katie M. Stout
Publisher: St. Martin's Griffin
Release date: June 9th 2015
Pages: 304
Genre: Young Adult contemporary romance
Source: I received a free copy of this book from the publisher in exchange for an honest review. Thanks!
Add to Goodreads | Puchase from Amazon
Grace Wilde is running—from the multi-million dollar mansion her record producer father bought, the famous older brother who's topped the country music charts five years in a row, and the mother who blames her for her brother's breakdown. Grace escapes to the farthest place from home she can think of, a boarding school in Korea, hoping for a fresh start.

She wants nothing to do with music, but when her roommate Sophie's twin brother Jason turns out to be the newest Korean pop music superstar, Grace is thrust back into the world of fame. She can't stand Jason, whose celebrity status is only outmatched by his oversized ego, but they form a tenuous alliance for the sake of her friendship with Sophie. As the months go by and Grace adjusts to her new life in Korea, even she can't deny the sparks flying between her and the KPOP idol.

Soon, Grace realizes that her feelings for Jason threaten her promise to herself that she'll leave behind the music industry that destroyed her family. But can Grace ignore her attraction to Jason and her undeniable pull of the music she was born to write? Sweet, fun, and romantic, this young adult novel explores what it means to experience first love and discover who you really are in the process.
My rating: 2 out of 5 stars
I was really excited for this one: it was pitched as another Anna and the French Kiss; I love books that let you explore foreign places; and the darker family stuff sounded right up my alley too. But sadly, Hello, I Love You is nowhere near as good as Anna and the French Kiss, the writing is not even close to strong enough to carry the emotional storyline, and the element of exploring a foreign culture is ruined by a frustratingly ignorant main character.
Grace is painfully ignorant about the country she has just decided to move to. I understand that, to some extent, this is just due to her circumstances: moving to Korea was a spur-of-the-moment decision with the goal of getting as far away from her family as possible. But she doesn't seem to have done any research at all before moving there; she could have at least looked up yes/no/please/thank you in Korean or learned the most basic ideas about Korean culture. And this ignorance doesn't really change once she's there: she doesn't try all that hard in her Korean class, and she doesn't try to interact with anyone except for those who speak perfect English. She justifies this by saying "
Call me antisocial, but in my defense, it's hard to make friends with people who refuse to speak your language outside the classroom" (59), which irritated me to no end - YOU're the one who decided to move to another country but is refusing to learn its language or culture. URGHH. Grace's exotifying comments about Korean culture (or Asian culture, as she likes to call, since of course they're all the same) are culturally insensitive at best and racist at worst. I did enjoy some of the descriptions of the places Grace visits, since I love seeing new places I've never been to through books, but Grace's ignorant comments kind of ruined the whole thing.
Of course, if all of this is intended, and the main character grows over the course of the novel, this doesn't have to be a bad thing. There are some attempts at character growth towards the end of the novel, and we do find out something that somewhat explains Grace's emotional state. But sadly, the writing just isn't strong enough to make this work. The writing is too simplistic for me to really feel for Grace, and her character growth is not developed enough at all: there are no consequences for Grace's behavior in the beginning of the novel, and she doesn't seem to show all that much remorse. That means the novel doesn't even question Grace's problematic attitudes, and Grace's racial and class privilege is never really addressed.
The romance might have just been tainted by my overall negative impression of Grace, but she frustrated me in her relationship with Jason too. Grace's constant back and forth about what she wants from Jason got irritating very quickly; she keeps messing things up with Jason on purpose and pushing him away for reasons that don't make sense to the reader, let alone Jason. Again, I get that, to some extent, this might have been intended, since we find out towards the end why Grace is so emotionally instable. But even if it makes sense, it did not make for an enjoyable romance, and the character growth at the end is not strong enough to justify the change in attitude and happy ending.
Everything about this book was just so frustrating. I can (sort of, maybe) see where Katie M. Stout was going with this, and the family storyline as well as the idea of moving Grace to another culture had a lot of potential. But the writing is very simplistic and none of the ideas are explored in enough depth to actually make this work. That leaves us with a culturally insensitive main character who doesn't really change over the course of the novel and a frustratingly hot-and-cold romance. I should have just reread Anna and the French Kiss instead...