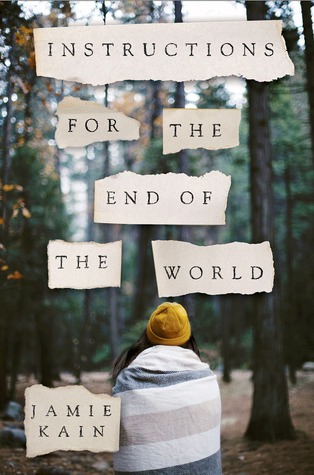 Title: Instructions for the End of the World
Author: Jamie Kain
Publisher: St. Martin's Griffin
Release date: December 8th 2015
Pages: 224
Genre: Young Adult contemporary
Source: I received a free copy of this book from the publisher in exchange for an honest review. Thanks!
Add to Goodreads | Puchase from Amazon
When Nicole Reed's father forces her family to move to a remote area of the Sierra Foothills, one without any modern conveniences, her life is completely turned upside down.
It's not that Nicole isn't tough. She's learned how to hunt, and she knows how to build things—she's been preparing for the worst-case scenario for what seems like forever.
But when she and her sister, Izzy, are left alone in this remote landscape to fend for themselves, her skills are put to the ultimate test. She's fine for a while, but then food begins to run out, the pipes begin to crack, and forest fires start to inch closer every day.
When Wolf, a handsome boy from the neighboring community, offers to help, Nicole feels conflicted. She can take care of herself. But things have begun to get desperate, and there's something about this boy she can't shake.
As feelings develop between these two—feelings Nicole knows her father would never allow once he returns—she must make a decision. With her family falling apart, will she choose to continue preparing for tomorrow's disasters, or will she take a chance and start living for today?
My rating: 3 out of 5 stars
Let me start by saying that if you're looking for a survivalist/apocalyptic novel, you're definitely going to be disappointed by Instructions for the End of the World. I was a little confused after reading the description and wasn't sure if there actually is an impending natural disaster or if this is just about Nicole and her family, and the latter turns out to be the case, but since I like either type of story, I didn't really mind. The story in Instructions for the End of the World is really weird, and I'm still not exactly sure what to make of it - Jamie Kain's writing is strong, and I really loved the originality of the novel, but there are some elements that are not developed enough to make this novel as impactful as it could have been.
I loved Jamie Kain's writing so much that I didn't even question the plot for maybe the first half of the novel. The writing style is so immersive that I finished the book within a day. The descriptions are very vivid and convey a great sense of setting: I felt like I was really there in the woods, the abandoned house, or the spiritualist camp. This writing really carried the novel for me, made me enjoy every part of it and not really notice until after I had finished reading that some of the other elements are lacking.
Even though elements of the characterization are flawed, all of the characters are intriguing to say the least. The story is told by Nicole, Izzy, Wolf, and Laurel, and all of them have very unconventional stories that are fascinating to read about. They're not really likeable (other than maybe Wolf), but I didn't mind because that didn't seem to be the point, and they all grow a lot over the course of the novel. Nicole is the obedient daughter who has always gone along with her father's obsession with survival, which makes for a very different main character; she might not be someone I can relate to, but she was fascinating to read about. Izzy is even more frustrating at the beginning of the novel: while of course her anger at the situation is understandable, her refusal to cooperate or help out Nicole makes her come across as a spoiled brat. But I actually really loved her storyline: the traumatic event that happens to her later on is handled with grace and made me really feel for her. I also loved how Izzy's and Nicole's developed over the course of the story. I just wish that we had gotten to know their parents more; both of them are fascinating people, and we do learn some of their secrets in their absence, but I wish that whole part of the novel had been elaborated on more. Then there's Wolf, who, albeit also living in very unconventional circumstances, is a bit easier to relate to. I really liked his story and the stories of the other people living on the reservoir. The fourth character whose POV we get to read from is Laurel, and I'm still confused about what readers were supposed to take from her story. I found the chapters from her perspective fascinating and really liked her character, but then she just kind of disappeared from the story. There are no chapters from her perspective in the second half of the novel and she just disappears to the peripheries of Wolf's story. I'm not really sure why Kain decided to do that; I wanted more development of Laurel's story because the way it is, I feel like it didn't really add anything to the novel.
The ending felt very underwhelming for me. I wasn't expecting a happy ending or anything, but I was expecting... something. The book just kind of ends with most things going back to the way they were before, with some minor changes, but that made it hard for me to see where the story was going. I especially wanted more of a resolution regarding Izzy and Nicole's parents, wanted a scene where the two of them could confront their mother, or something. The way it is, I couldn't really tell where the author wanted to take the story.
In a word, this book was different, in ways both good and bad. I really loved the writing, the unique setting, and the intriguing characters, but I wanted a lot more from some elements of the story. So if you're looking for a different type of YA novel to read, maybe give Instructions for the End of the World a try, just don't expect an entirely coherent story arc or anything like that. I do want to check out Jamie Kain's debut novel or whatever she publishes next, though, because I loved her writing style so much.