Today we have Laurie Elizabeth Flynn here for an author interview! This interview is part of the blog tour for Firsts.
1. Without spoiling anything, could you tell us what was your favorite scene to write in Firsts?
That's a great question! The first chapter was seriously fun to write. But there's a particular scene later in the book that has my heart. Without giving anything away, I'll just say it involves a reference to a certain type of pasta.
2. If you had to pair up your main character Alma from Firsts with any other character from any other YA book (either romantically or as a friend), who would it be and why?
I'd love to put Mercedes in a room with Chuck Bass from Gossip Girl. Their combined sarcasm would be deafening, and so entertaining. I think sparks might fly.
3.
I absolutely love the idea for Firsts, and I'm always really excited about sex-positive YA books. Could you talk a little bit about what made you want to write about this?
I was working on an entirely different New Adult contemporary when the idea for Firsts struck me. All I had was the name Mercedes and the hook—a girl who wants to give virgin guys the perfect first time. I didn't know what happened beyond that. I just knew I had to write the rest to find out. As I wrote, I thought more and more about the double-standard that exists for teenage girls when it comes to sex, and I got angry. I wanted to write something from the point of view of a girl who would be slut-shamed because of her actions—and in doing so, raise tough questions that people don't always want to think about.
4. How do you go about naming your characters?
I don't name them intentionally. I like to think they choose their own names. Generally when I have a new idea for a story, the first things to come to me are the main character's name and the hook. As I write, the other characters show up on the pages and their names just seem to fit.
5.
For any aspiring writers out there - what's the best writing advice you've ever received?
Write what you want to write, not what you think an agent will want to read. If you're passionate about your writing, that will make your words electric. It's okay to be scared by an idea, but don't let that stop you from writing it.

Also, try not to compare yourself—to other authors or to different projects you've worked on. There's a saying that comparison is the thief of joy, and I believe it. Be happy with the stage you're at, and don't be hard on yourself if every book you write follows a different process.

Make sure to check out all the other stops of the blog tour, and keep your eye out for Firsts, which came out January 5th!
This is what the book is all about: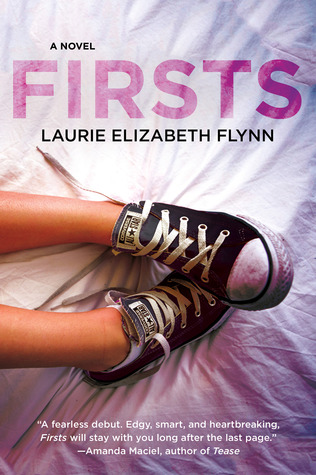 Firsts by Laurie Elizabeth Flynn
ESeventeen-year-old Mercedes Ayres has an open-door policy when it comes to her bedroom, but only if the guy fulfills a specific criteria: he has to be a virgin. Mercedes lets the boys get their awkward, fumbling first times over with, and all she asks in return is that they give their girlfriends the perfect first time- the kind Mercedes never had herself.

Keeping what goes on in her bedroom a secret has been easy- so far. Her absentee mother isn't home nearly enough to know about Mercedes' extracurricular activities, and her uber-religious best friend, Angela, won't even say the word "sex" until she gets married. But Mercedes doesn't bank on Angela's boyfriend finding out about her services and wanting a turn- or on Zach, who likes her for who she is instead of what she can do in bed.

When Mercedes' perfect system falls apart, she has to find a way to salvage her reputation and figure out where her heart really belongs in the process. Funny, smart, and true-to-life, FIRSTS is a one-of-a-kind young adult novel about growing up.