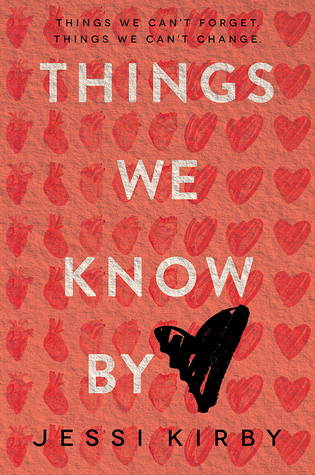 Title: Things We Know by Heart
Author: Jessi Kirby
Publisher: HarperTeen
Release date: April 1st 2015
Pages: 304
Genre: YA contemporary romance
Source: NetGalley - I received a free advance eGalley of this book in exchange for an honest review. Thanks!
Add to Goodreads | Purchase from Amazon
After Quinn loses her boyfriend, Trent, in an accident their junior year, she reaches out to the recipients of his donated organs in hopes of picking up the pieces of her now-unrecognizable life. She hears back from some of them, but the person who received Trent's heart has remained silent. The essence of a person, she has always believed, is in the heart. If she finds Trent's, then maybe she can have peace once and for all.
Risking everything in order to finally lay her memories to rest, Quinn goes outside the system to track down nineteen-year-old Colton Thomas—a guy whose life has been forever changed by this priceless gift. But what starts as an accidental run-in quickly develops into more, sparking an undeniable attraction. She doesn't want to give in to it—especially since he has no idea how they're connected—but their time together has made Quinn feel alive again. No matter how hard she's falling for Colton, each beat of his heart reminds her of all she's lost…and all that remains at stake.
My rating: 4 out of 5 stars
I've loved Jessi Kirby since her debut, Moonglass - all of her books are beautifully written and emotional, and Things We Know by Heart is no exception. Yes, the premise is somewhat staged and melodramatic, but it's right up my alley, and I loved the emotional trainwreck that is most of the novel. Even though I had some issues with a couple smaller things, I absolutely loved Things We Know by Heart - it has convinced me, yet again, that Jessi Kirby is one of my favorite contemporary YA authors.
I loved Quinn from the beginning on. I've read some reviews complaining they didn't like Quinn because they didn't agree with her decision to contact Colton against his wishes, or because they found her to be too mopey. I can definitely see where they're coming from, but for me, it worked - her grief is written in such a palpable way that I couldn't blame her for these bad decisions. Yes, she has been grieving for over a year and still hasn't remotely moved on, but this is acknowledged throughout the novel, and it makes sense, knowing her motivations. Jessi Kirby wrote Quinn's grief in such a relatable way that I felt for her and never even questioned her decisions.
Colton is an amazing character, too. His backstory is fascinating, and his personality shines through in their "perfect days," which I loved reading about. I also loved Quinn's family; Ryan, Quinn's sister, is my favorite, and I loved the scenes between the two of them. Trent is the only character that I found to be a bit underdeveloped; considering he (or his absence) is such a large part of the story, I wish we could have gotten to know him a bit better. In a way it makes sense, since the novel is set more than a year after his death, but considering that Quinn's grief is the motivation for this whole story, I wish we had learned more than just how the two of them met.
Jessi Kirby's writing, and the emotions it conveys, are what's best about Things We Know by Heart. The writing is beautiful and has so many deep, quote-worthy comments, but it's never so ornate that it would distract from the story. The way her words make you feel is always what's best about Jessi Kirby's books - with the amount of tears I shed, I really shouldn't have been reading this in public. I cried for Quinn's loss and for what Colton has been through, but I also cried at the beauty of their story. It's such a cliche, but Things We Know by Heart is actually the kind of book that will break your heart and put it back together again.
Even though I loved the story, I did have some issues with the message: Things We Know by Heart kind of insinuates that the only way Quinn can move on from her boyfriend's death is by finding a new guy. I wish her recovery hadn't been quite as focused on the romance, that maybe her reaching out to her past friends had also played a role in it. Her relationship with her sister Ryan does help her recovery, but especially the ending is very much focused on the romance. I also wish the novel had included more of a discussion on whether Quinn and Colton's connection is really between them or if it has something to do with their connection, which could have worked as one explanation as to why the romance plays such an important role in Quinn's recovery process.
But these smaller issues are nothing compared to how much I loved the majority of the novel. With an original idea, relatable, complex characters, and evocative writing, Things We Know by Heart gave me all the feels. I love Jessi Kirby more with each book she publishes. If you're looking for an emotional but uplifting read, definitely give this one a try!