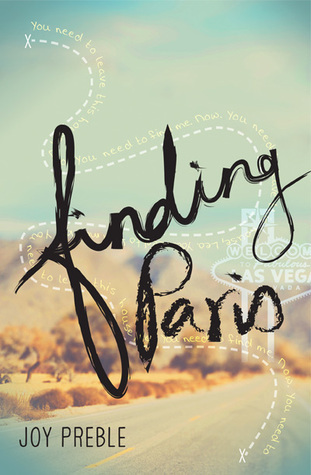 Title: Finding Paris
Author: Joy Preble
Publisher: Balzer & Bray/HarperTeen
Release date: April 21st 2015
Pages: 272
Genre: Young Adult contemporary
Source: Edelweiss - I received a free advance eGalley of this book in exchange for an honest review. Thanks!
Add to Goodreads | Purchase from Amazon
Sisters Leo and Paris Hollings have only ever had each other to rely on. They can't trust their mother, who hops from city to city and from guy to guy, or their gambler stepfather, who's moved them all to Las Vegas. It's just the two of them: Paris, who's always been the dreamer, and Leo, who has a real future in mind--going to Stanford, becoming a doctor, falling in love. But Leo isn't going anywhere right now, except driving around Vegas all night with her sister.
Until Paris ditches Leo at the Heartbreak Hotel Diner, where moments before they had been talking with physics student Max Sullivan. Outside, Leo finds a cryptic note from Paris--a clue. Is it some kind of game? Where is Paris, and why has she disappeared? When Leo reluctantly accepts Max's offer of help, the two find themselves following a string of clues through Vegas and beyond. But the search for the truth is not a straight line. And neither is the path to secrets Leo and Max hold inside.
My rating: 4 out of 5 stars
Finding Paris really took me by surprise. I was expecting a thriller-like storyline of Leo searching for Paris along with a cute romance. But Finding Paris is so much deeper than that. It starts out as a sweet, fun contemporary, but it gets darker as the story goes on; it focuses a lot more on family issues than I had been expecting. Rather than a romance and mystery, I got a very dark, emotional family story, and I loved it!
I loved the characters in Finding Paris. Leo is a pretty standard contemporary YA main character, but I related to her and felt for her. Max is probably my favorite character: his backstory is fascinating and makes him a complex and intriguing character; I would love to read a companion novel from his perspective. I could see how you could complain that Leo and Max's relationship is a little instalove-y, but I think it works: they do fall for each other within a span of a couple of days, but it makes sense considering they're in such an intense situation. I also really admire how Joy Preble handled the later developments in their relationship, considering both of their pasts and issues. I didn't like Paris quite as much as Leo and Max: she's a bit of an enigma, and her reasoning for all of this is a little ridiculous. Her and Leo's relationship is still very strong, though. One character I wish had been explored more is Leo and Paris's mom; her motivations and role in the family's issues aren't always clear.
Joy Preble's writing style is very distinct; I'm not really sure how to explain it. It's very sparse, almost exclusively showing and no telling. That means you don't always know everything that Leo is thinking, and what is happening isn't always explicit. There were times I wanted to dig deeper into Leo's thoughts, but for the most part, it really works; the sparseness makes it hit you so much more when a little detail reveals how deep Leo's scars run. The style might be sparse, but that doesn't mean it won't make you feel anything; I laughed during the lighter parts in the beginning, and I bawled at the end because the story conveys such strong emotions.
I'm still not sure what to make of the revelations at the end of the novel. I saw a part of it coming, but the final reveal still left me breathless. The build-up of the suspense is expertly done, and the reveal is very dramatic. What I have mixed feelings about, though, are the emotional implications of the reveal. I sort of felt like this reveal was too big and dark to be made in the last couple of pages, since that didn't leave a lot of time for the implications to be explored, since this is an issue that needs to be handled very seriously. But, with the little time left in the novel, it is handled really well. It works with Joy Preble's writing style, which addresses the issue in a thoughtful manner without being explicit about it. I do think this is handled well and works with the story, but I could see how some readers might take issue with such a big reveal at the very end of the novel.
Finding Paris was very different from what I was expecting, but in a good way; it's a lot more serious and psychological than the description lets on. With a unique writing style and memorable characters, Finding Paris is both suspenseful and emotional. I definitely recommend it!