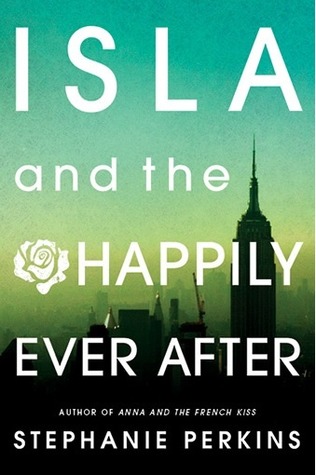 Title: Isla and the Happily Ever After
Author: Stephanie Perkins
Publisher: Dutton
Release date: January 1st 2014
Pages: 352
Genre: YA contemporary romance
Source: Bought
Add to Goodreads | Purchase from Amazon
Hopeless romantic Isla has had a crush on introspective cartoonist Josh since their first year at the School of America in Paris. And after a chance encounter in Manhattan over the summer, romance might be closer than Isla imagined. But as they begin their senior year back in France, Isla and Josh are forced to confront the challenges every young couple must face, including family drama, uncertainty about their college futures, and the very real possibility of being apart.

My rating: 4 out of 5 stars

I absolutely loved Anna and the French Kiss, but I was a little disappointed by Lola and the Boy Next Door, so I lowered my expectations for Isla and the Happily Ever After. Luckily, though, Isla and the Happily Ever After exceeded all my expectations! It is a bit melodramatic at times, but it totally works. Even though I had some smaller issues, I loved the characters and I was so emotionally invested I was crying and laughing throughout the novel, and that's all that really matters.
It took me a little while to get into the relationship between Isla and Josh. Isla is a good character and very relatable, but she seemed kind of like the standard contemporary YA MC. Josh seemed a bit too perfect in the beginning, in my opinion, and just the whole storyline of them getting together after Isla had been crushing on Josh for years just seemed a little cliched to me. But over the course of the novel, Isla and Josh get a lot more complex, both individually and in their relationship, as both of them show their flaws and the relationship has its ups and downs. These flaws are what really made their relationship work for me, and once we got to see those is when I became really emotionally invested. During the last 50 pages, I would just go back and forth between crying sad and happy tears because the feels were so real.
I actually think I loved the secondary characters more than I loved the MCs. Kurt is an amazing character, and I loved his relationship with Isla - it always makes me happy when YA actually includes platonic guy-girl friendships, and Isla and Kurt's is a particularly good one. I also loved Isla's sisters and how their dynamics develop over the course of the novel; I especially enjoyed Isla's revelation about her issues with her younger sister Hattie and how those are resolved later on. The colorful cast of secondary characters really made this novel come together.
I know a lot of readers always love seeing the characters from previous companion novels, but it felt a bit forced in Isla and the Happily Ever After. Sometimes it works naturally, like when all companion novels are set at the same school, but the reunion scene in Isla and the Happily Ever After with everyone coming back to Paris felt a little over-the-top to me. It also drew more attention to how perfect all these characters are, which bothered me a little, even though I know including Anna and St. Claire and Lola and Cricket is kind of necessary for this series.
Even though it took me a while to get into it, I really loved Isla and the Happily Ever After. I might have had some smaller issues with the novel, but just the amount of tears I cried while reading is proof that Stephanie Perkins was successful in making me fall in love with these characters and become emotionally invested in their relationship. If you're looking for a good YA contemporary romance, I would definitely picking up this series, if you haven't.