I'm so excited to have one of my favorite authors, Courtney Summers, here for an author interview today! This interview is part of the blog tour for her newest release, All the Rage.
1. How has writing All the Rage been different or similar from writing your previous novels?
All of my novels have been challenging to write in their own ways but All the Rage was one of the most difficult books I've ever written. My writing process isn't the tidiest, but it's a little more straightforward than All the Rage's turned out to be. I'd been working on it since around 2009/2010 and I'd set it aside for my other books. When St. Martin's acquired it in 2012, it went through about six drafts before it was done. It took a while to figure out exactly how I wanted to tell it. It was all worth it in the end, though! I'm very proud of this book.
2. As an advocate for sexual assault survivors, I'm always excited to see authors whose books I enjoy take on this topic. What message would you like readers to take from All the Rage regarding sexual violence? What were some of the difficulties of writing about such a sensitive topic?
I want someone who picks up All the Rage to be angry about rape culture and victim blaming by the time they've finished it. I want them to keep the conversation about both going—because we need to keep talking about it if we want anything to change. I hope they will also want to raise awareness and advocate for survivors, like you do.

All the Rage was difficult to write because when you're writing about rape culture, about victim-blaming, about the lack of support and justice for survivors, you want to be very conscious of what you're contributing to the larger conversation—you want to make sure that you're treating the subject sensitively and carefully. This creates a lot of pressure for a writer, but it's a very necessary pressure.
3. If you had to pair up your main character from All the Rage, Romy, with the main character from any of your other books, who do you think she would get along with best?
Oh, wow! That's a great question. I almost think Eddie from Fall for Anything—she'd get along with Romy best. I think they'd balance each other out. :)
Thanks so much for stopping by Paperback Treasures on your blog tour!
Thanks for having me on your blog!
Make sure to check out all the other stops of the blog tour, and keep your eye out for
All the Rage
, which was released April 14th. Here's what it's all about: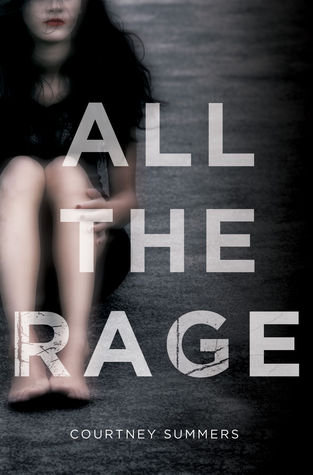 All the Rage by Courtney Summers
The sheriff's son, Kellan Turner, is not the golden boy everyone thinks he is, and Romy Grey knows that for a fact. Because no one wants to believe a girl from the wrong side of town, the truth about him has cost her everything-friends, family, and her community. Branded a liar and bullied relentlessly by a group of kids she used to hang out with, Romy's only refuge is the diner where she works outside of town. No one knows her name or her past there; she can finally be anonymous. But when a girl with ties to both Romy and Kellan goes missing after a party, and news of him assaulting another girl in a town close by gets out, Romy must decide whether she wants to fight or carry the burden of knowing more girls could get hurt if she doesn't speak up. Nobody believed her the first time-and they certainly won't now-but the cost of her silence might be more than she can bear. With a shocking conclusion and writing that will absolutely knock you out, All the Rage examines the shame and silence inflicted upon young women in a culture that refuses to protect them.