Top Ten Tuesday is a meme hosted by The Broke and the Bookish with a different topic for a top-ten list each week. You can find out more about it here.
This week's topic is:
Top Ten Books I Really Want to Read But Don't Own Yet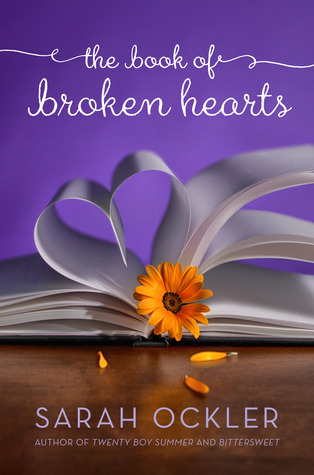 1.
The Book of Broken Hearts
by Sarah Ockler
I loved most of Sarah Ockler's books, and I really want to read The Book of Broken Hearts. (To be honest, the only reason I haven't bought it is the embarrassing cover. But I'll just have to get over that.)
2.
Isla and the Happily Ever After
by Stephanie Perkins
Let's just get this one out of the way. Obviously I need to buy Isla as soon as possible.
3.
Fault Line
by Christa Desir
I love Christa Desir's Bleed Like Me, and Christa is awesome on Twitter, so I really need to read her debut.
4. Raw Blue by Kirsty Eagar
I feel like everyone who has read Raw Blue has loved it like no other; I don't think I've read a single bad review for this one. I really really need to get over my only-reading-recent-releases thing and buy Raw Blue.
5. The Disenchantments & Everything Leads to You by Nina LaCour
I'm just going to count these two as one because I couldn't decide which of them to put on the list. I absolutely loved Nina LaCour's debut, Hold Still, but for some reason still haven't read her newer releases. Her writing in Hold Still is amazing, so I really need to get to these.
6. Golden by Jessi Kirby
I loved both Moonglass and In Honor by Jessi Kirby - Jessi Kirby's writing style is just amazing. So of course I need to read her newest release!
7. Where the Stars Still Shine
by Trish Doller
Trish Doller's debut, Something Like Normal, is one of my all-time favorites, and I have no idea why I still haven't bought Where the Stars Still Shine.
8. The Museum of Intangible Things by Wendy Wunder
I loved Wendy Wunder's writing in The Probability of Miracles, so I can't wait to read her sophomore novel!
9. White Lines by Jennifer Banash
I love gritty, dark contemporary YAs like this, and I've heard amazing things about White Lines. I'm also kind of obsessed with the cover, and I don't even know why, since it's a very standard YA girl's face cover.
10. Like No Other by Una LaMarche
I recently read Una LaMarche's Five Summers and loved it, so I really need to get my hands on a copy of Like No Other!
Have you read any of these? Which books do I absolutely need to get right away?