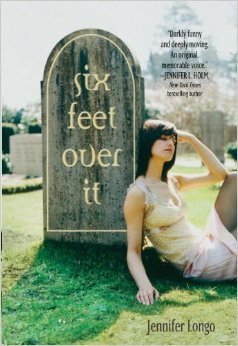 Title: Six Feet Over It
Author: Jennifer Longo
Publisher: Random House BYR
Release date: August 28th 2014
Pages: 352
Genre: Young Adult contemporary
Source: NetGalley - I received a free eGalley of this book from the publisher in exchange for an honest review. Thanks!
Add to Goodreads | Purchase from Amazon
Leigh sells graves for her family-owned cemetery because her father is too lazy to look farther than the dinner table when searching for employees. Working the literal graveyard shift, she meets two kinds of customers:
Pre-Need: They know what's up. They bought their graves a long time ago, before they needed them.
At Need: They are in shock, mourning a loved one's unexpected death. Leigh avoids sponging their agony by focusing on things like guessing the headstone choice (mostly granite).
Sarcastic and smart, Leigh should be able to stand up to her family and quit. But her world's been turned upside down by the sudden loss of her best friend and the appearance of Dario, the slightly-too-old-for-her grave digger. Surrounded by death, can Leigh move on, if moving on means it's time to get a life?
My rating: 4 out of 5 stars
Six Feet Over It was completely different than I'd expected. I somehow missed the whole "sudden loss of her best friend" part of the synopsis; the only thing that registered was the unique setting and the humorous tone. Especially the title suggested this would be a funny, sarcastic, teenage-drama type of story. And while it definitely has those elements, Six Feet Over It is so much more than that. It is very much literary fiction, portraying dark topics in an honest and moving way. I loved everything about it!
Leigh's incredible voice is what carries the novel. She is such a dynamic character. She puts up a front of being strong, sarcastic, and cynical, and she has a great sense of humor. But over the course of the novel, we also get to see what's hidden behind the sarcasm. She is deeply troubled, and I felt for her so much during her darker moments. Her emotions are raw and honest, making parts of this novel heartbreaking to read. The character growth Leigh undergoes feels very real, and I loved being with her over the course of the story.
The secondary characters are just as great. I loved Leigh's sister, Kai, gravedigger Dario, and her friend Elanor. The only characters that I think could have used some more depth are Leigh's parents: I get that being absent is kind of what defines them, and I really enjoyed Leigh's astute criticism of them, but I still wish we had gotten some more insight into their backgrounds and motivations in order to understand why they act this way.
There are some parts of the plot that are a little bit too convenient and might come off as unrealistic, which would usually bother me. (Some details about Emily's death, for example, and where she is now.) But for some reason, I didn't mind - these scenes served their purpose, and Jennifer Longo's incredible writing and complex characters more than made up for it.
My only issue with the novel is the Spanish. There are many conversations in Six Feet Over It that take place in Spanish, and when it's such an important part of the novel, I really think it's important to do your research. The Spanish the characters use has a bunch of grammatical errors, and a ton of stuff literally translated from English that just doesn't work in Spanish. If this only applied to the Spanish Leigh speaks, that would make sense, since she's just learning. But it's the same with the other characters, whose first (or only) language is Spanish, so that didn't make sense. I know this isn't really that big a deal, but it just really bothers me when authors get foreign languages wrong - how hard can it be to find someone who is fluent in Spanish to proofread those scenes? Okay. Rant over.
Six Feet Over it is such an impressive debut. It's an excellently written, raw and honest story that will break your heart and put it back together again. (Sorry, cliched, I know. But it's totally true in this case.) I know these characters will stay with me for a long time. If you're a fan of literary YA, you should definitely pick this one up! I can't wait to read what Jennifer Longo writes next.