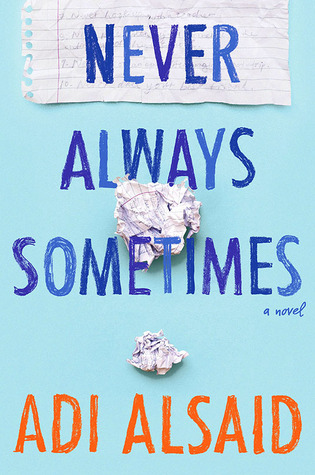 Title: Never Always Sometimes
Author: Adi Alsaid
Publisher: HarlequinTeen
Release date: August 4th 2015
Pages: 320
Genre: Young Adult contemporary
Source: HarlequinTeen provided a free copy of this book in exchange for an honest review. Thanks!
Add to Goodreads | Puchase from Amazon
Best friends Dave and Julia were determined to never be cliché high school kids—the ones who sit at the same lunch table every day, dissecting the drama from homeroom and plotting their campaigns for prom king and queen. They even wrote their own Never List of everything they vowed they'd never, ever do in high school.

Some of the rules have been easy to follow, like #5, never dye your hair a color of the rainbow, or #7, never hook up with a teacher. But Dave has a secret: he's broken rule #8, never pine silently after someone for the entirety of high school. It's either that or break rule #10, never date your best friend. Dave has loved Julia for as long as he can remember.

Julia is beautiful, wild and impetuous. So when she suggests they do every Never on the list, Dave is happy to play along. He even dyes his hair an unfortunate shade of green. It starts as a joke, but then a funny thing happens: Dave and Julia discover that by skipping the clichés, they've actually been missing out on high school. And maybe even on love.
My rating: 3 out of 5 stars
I loved Adi Alsaid's writing style in his debut, Let's Get Lost, so I was really excited to read another one of his novels. But sadly, Never Always Sometimes doesn't quite live up to Let's Get Lost's greatness - while Alsaid's writing still carries the novel, his sophomore novel lacks the original premise and unique characters I loved in Let's Get Lost.
Even though Dave and Julia pride themselves on not being high school cliches, that's pretty much exactly what they are: they are the stereotypical too-smart-for-high-school outsiders. I understand that this was probably an intentional move on Alsaid's part, but that doesn't make them any less cliched, especially because this is such an overdone trope in contemporary YA.
Dave's character frustrated me from the beginning on. The entire first part is just Dave pining away for Julia; all he talks about is how great Julia is and how much he loves her and how hard it is to keep his love a secret. It just got really annoying after a while.
Julia is pretty much the definition of a manic pixie dream girl, and again, I understand that this is probably intentional and that Alsaid is playing with the trope. I just don't think it works - there's nothing new to Julia that would work against the MPDG trope. I didn't understand her emotions; she's just this overly quirky girl who is always barefoot, and we never even find out why. I was hoping we would get more insights into her character in the part that she narrates, and I did enjoy finding out about her family life. But other than that, she remains a personality-less trope with no deeper explorations of what makes her so quirky and different. And the whole thing about her pretty much harassing a teacher.... that's just not okay.
Dave and Julia's friendship is fun to read about, in parts; some of their witty dialogue can be entertaining. But for the most part, I felt like it was trying too hard to be John-Green-esque, with the whole unrealistically-smart teenager thing, and this just doesn't work as well when anyone but John Green tries to do it. I wish their whole friendship hadn't been reduced to this type of dialogue; we don't even get to find out how they became friends or how Dave's feelings for Julia developed.
The secondary characters had some potential. I actually liked Gretchen, the other part of the book's obligatory love triangle, more than Dave and Julia; she seems like less of a stereotype to me. But she still sort of felt like an outsider to the story, considering she's such an important part of the novel but doesn't get to narrate her parts the way Dave and Julia do. I also liked reading about Dave's and Julia's families because both are really interesting set-ups, I just wish their stories had been elaborated on a little more at the end - I especially wanted to see what would happen with Dave's brother, Brett.
Like I said, I did really enjoy Alsaid's writing. Like in Let's Get Lost, the writing flows really nicely and is light entertaining for the most part. This is interspersed with some deeper insights that actually make the reader think. However, I just don't think these insights work as well in Never Always Sometimes as they did in Let's Get Lost because the story isn't strong enough to carry such deep messages.
All in all, Never Always Sometimes is a very okay book. It's not bad, it just doesn't stand out within the contemporary YA genre. For a book that wants to tackle cliches, it doesn't actually complexify them all that much. While Alsaid's poignant writing style ensured I wanted to finish the novel, the story and the characters bored me, for the most part. To be honest, there are plenty of better best-friends-maybe-falling-in-love YA books out there, and I wouldn't particularly recommend this one. I'll still keep my eye out for what Alsaid publishes next, though, because I do really enjoy his writing style.