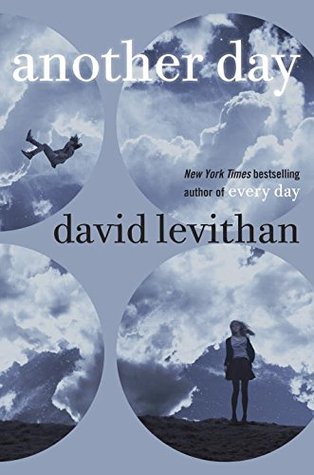 Title: Another Day (Every Day #2)
Author: David Levithan
Publisher: Alfred A. Knopf BYR
Release date: August 25th 2015
Pages: 327
Genre: Young Adult contemporary/fantasy
Source: Bought
Add to Goodreads | Puchase from Amazon
Every day is the same for Rhiannon. She has accepted her life, convinced herself that she deserves her distant, temperamental boyfriend, Justin, even established guidelines by which to live: Don't be too needy. Avoid upsetting him. Never get your hopes up.

Until the morning everything changes. Justin seems to see her, to want to be with her for the first time, and they share a perfect day—a perfect day Justin doesn't remember the next morning. Confused, depressed, and desperate for another day as great as that one, Rhiannon starts questioning everything. Then, one day, a stranger tells her that the Justin she spent that day with, the one who made her feel like a real person…wasn't Justin at all.

In this enthralling companion to his New York Times bestseller Every Day, David Levithan tells Rhiannon's side of the story as she seeks to discover the truth about love and how it can change you.
My rating: 4 out of 5 stars
I was super excited when I heard there would be a sequel to Every Day (which I absolutely loved), but when I found out it would be a companion novel retelling the story from Rhiannon's point of view, I wasn't sure what to think - I wanted to find out what happens after Every Day, not just read the same story again. It would have been very easy for Another Day to be boring and redundant, considering we all know already exactly what's going to happen. But luckily, it turned out to be the opposite!
I guess in this case, my bad memory worked in my favor - I read Every Day a couple of years ago and didn't really remember the details of the plot. That meant that, even though I had read the story before, I didn't really know where Another Day was going; I would remember already reading about something once it happened, but it wasn't like I already knew every little thing that would happen.
But even if I had a better memory or hadn't waited as long between reading the two books, I think I would have enjoyed Another Day just as much. I just loved reading this story from Rhiannon's perspective and getting to know Rhiannon better. Especially the parts where Rhiannon goes back and forth between wanting to make it work with A and realizing that she can't were an intriguing addition to the story: how she deals with all of this is honest and realistic. I especially liked how, even though she's in love with A's soul, she struggles to accept him in every body; this touches on issues like sexual orientation and what we're actually attracted to. Even though she wants to accept every form of A, she has an easier time when A is in a male body, and a body that she would usually be attracted to. This is a really honest portrayal of how while gender and sexual orientation are social constructs that shouldn't matter, they are so ingrained in us that it's really hard to completely let go of them. I really liked how David Levithan combines this important message with this honest portrayal of how hard it is to let go of these constraints in our society.
The only thing I had criticized about Every Day was that A's feelings for Rhiannon felt a little too insta-love-y for me, and that stays the same in Another Day. But because we get to see Rhiannon waver so much, it made a little more sense to me: A falls for Rhiannon immediately because she's the only person he's ever known for more than a day, while Rhiannon's feelings develop more like the feelings of a real person. Still, I thought it was a little overdone how A immediately seeks out to find Rhiannon in bodies other than Justin's.
If you loved Every Day, you will probably love Another Day just as much. While it doesn't add anything new to the story in terms of plot (it leaves us with the same heartbreaking ending), it provides a new perspective and new insights into the story. Another Day is just as beautifully written, evocative, emotional and insightful as Every Day, and I absolutely love both of these novels.