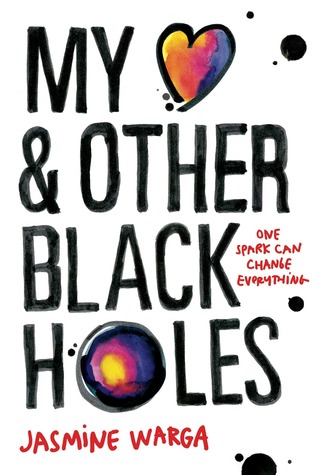 Title: My Heart & Other Black Holes
Author: Jasmine Warga
Publisher: Balzer + Bray
Release date: February 10th 2015
Pages: 320
Genre: Young Adult contemporary
Source: Edelweiss - I received a free eGalley of this book from the publisher in exchange for an honest review. Thanks!
Add to Goodreads | Purchase from Amazon
Sixteen-year-old physics nerd Aysel is obsessed with plotting her own death. With a mother who seems scared of her, classmates who whisper behind her back, and a father whose violent crime rocked her small town, Aysel's ready to turn her potential energy into nothingness.
There's only one problem: she's not sure she has the courage to do it alone. But once she discovers the website Smooth Passages and its section called Suicide Partners, Aysel's convinced she's found her solution. Better yet, a boy with the username FrozenRobot (aka Roman), who's haunted by a family tragedy, is looking for a partner.
But as their suicide pact starts to become more concrete, Aysel begins to question whether she really wants to go through with it. Ultimately, Aysel must choose between wanting to die or trying to convince Roman to live so they can discover the potential of their energy together. Except that Roman may not be so easy to convince.
My rating: 4 out of 5 stars
It's only February, but I think My Heart and Other Black Holes is going to be one of my favorite debuts of the year. It sounded right up my alley, but writing is everything for these kinds of stories - and luckily, Jasmine Warga's writing is definitely strong enough to make this story work. I absolutely loved Aysel's story.
Aysel is definitely what impressed me most about My Heart and Other Black Holes. From the very beginning on, I absolutely loved her and felt for her. I was really impressed with how Jasmine Warga's writing makes Aysel's emotions come across as so real. I understood her completely; it sounds bad, but it actually made sense to me why she wanted to die. Jasmine Warga's descriptions of the black slug, as Aysel calls her depression, are honest and raw and really make you understand what it's like to suffer through something like this.
I also loved the whole set-up of this story. The idea of suicide pact is horrible, but it's also very compelling and suspenseful to read about. Because of this, Aysel's and Roman's relationship is very distinct because, at the same time as developing feelings for each other, they have to keep reminding each other not to "flake out" and make sure they will stick to their pact. It's very dark, but I think Jasmine Warga made it work because, again, it totally made sense to me.
The only part I had an issue with is the ending; it just felt a little bit rushed to me. I found it kind of problematic how the romance is Aysel's main motivation for wanting to live, and how it changed her mind so quickly. After her decision not to commit suicide, I wanted to see more of the uphill battle of how she still struggles with depression, and how she manages to move forward. Especially Roman's development towards the end felt a bit rushed, and a part of his story seemed like it was only there to add drama without being fully explored.
Despite my issues with the rushed ending, I absolutely loved My Heart and Other Black Holes. Jasmine Warga's writing is poignant, raw, and honest, and Aysel is one of the most relatable characters I've read in a while. I definitely recommend My Heart and Other Black Holes, and I can't wait to see what Jasmine Warga comes up with next!