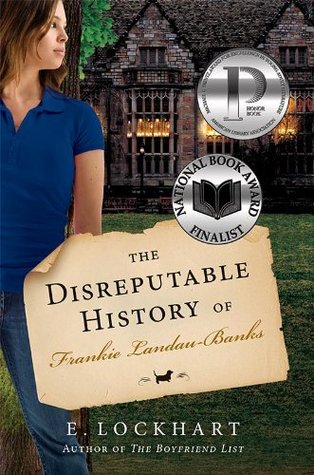 Title: The Disreputable History of Frankie Landau-Banks
Author: E. Lockhart
Publisher: Disney-Hyperion
Release date: August 25th 2009
Pages: 345
Genre: Young Adult contemporary
Source: Bought
Add to Goodreads | Purchase from Amazon
Frankie Landau-Banks at age 14:
Debate Club.
Her father's "bunny rabbit."
A mildly geeky girl attending a highly competitive boarding school.
Frankie Landau-Banks at age 15:
A knockout figure.
A sharp tongue.
A chip on her shoulder.
And a gorgeous new senior boyfriend: the supremely goofy, word-obsessed Matthew Livingston.
Frankie Landau-Banks.
No longer the kind of girl to take "no" for an answer.
Especially when "no" means she's excluded from her boyfriend's all-male secret society.
Not when her ex-boyfriend shows up in the strangest of places.
Not when she knows she's smarter than any of them.
When she knows Matthew's lying to her.
And when there are so many, many pranks to be done.
Frankie Landau-Banks, at age 16:
Possibly a criminal mastermind.

This is the story of how she got that way.
My rating: 5 out of 5 stars
I can't believe I waited this long to read The Disreputable History of Frankie Landau-Banks. It had been on my TBR pile for years, but I always pushed it aside for newer releases, which I now know was a mistake because this novel is instantly going on my list of all-time favorites. I know this book had gotten a ton of praise and awards when it was released, but I was not expecting it to be this perfect and speak to me in such a personal way. I don't even know how I'm going to gather my thoughts and write a coherent review because I just loved this book so much!
From the first page on, you can tell that The Disreputable History of Frankie Landau-Banks is something very special, and that's because of the incredible voice and narration. We have a very unusual narrator for YA, someone who tells the story from Frankie's point of view but also makes commentary and hints at future events. This narrator is very sophisticated and witty, which contrasted the realistic teenager dialogue in really interesting ways. The narration provides a great frame for the story, especially when it gives details about past secret societies and connects the story to Frankie's class. I don't even know how to describe this voice; it's just funny and entertaining and so great to read.
The other element that makes The Disreputable History of Frankie Landau-Banks stand out is, of course, Frankie herself. Frankie is my favorite YA heroine I've read about in a long time, maybe ever. She is so witty and funny but still completely complex and realistic; I especially loved her obsession with neglected positives and her awkward debates inside her head about how to respond in certain situations. I can't talk about Frankie without mentioning how the entirety of her character basically made me want to do a feminist happy-dance - finally, a heroine that actually talks about feminism! Feminism and self-empowered women are such an important part of this novel, but I especially loved how Frankie debates the intricacies of feminism and differing viewpoints within feminism; she's a very realistic character in that way. The only thing that bothered me about her is how she seems to undervalue feminine qualities and activities and only wants to participate in things that will gain her respect from guys - like how she says she would never play field hockey because guys would make fun of her for it. But in a way, even that works, because it shows again a young woman navigating the intricacies and different interpretations of what it means to be empowered, and I loved that.
While Frankie is the shining star in The Disreputable History of Frankie Landau-Banks, the secondary characters are fully-developed and interesting to read about as well. I loved Zada and her influence on Frankie, and Trish is a really great friend to Frankie, too. Matthew and Alpha are interesting characters too, but I appreciated that the focus ultimately wasn't on Frankie's relationship with either one of them. It was interesting to see Frankie try to navigate her relationship with Matthew, but I love how, in the end, the novel is more about Frankie's self-expression than any kind of romance.
Basically, I loved everything about The Disreputable History of Frankie Landau-Banks: the unusual narration, the kickass heroine, and the undoubtably feminist message. I was so disappointed when the novel final ended, not because I didn't like the ending but because I wanted to keep reading and stay in Frankie's world forever. E. Lockhart has converted me into a complete fan, and I really need to get my hands on some of her other books!