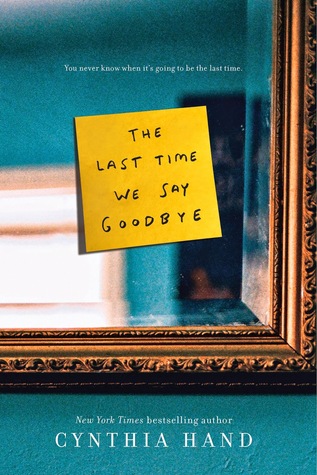 Title: The Last Time We Say Goodbye
Author: Cynthia Hand
Publisher: HarperTeen
Release date: February 10th 2015
Pages: 400
Genre: Young Adult contemporary
Source: Edelweiss - I received a free eGalley of this book from the publisher in exchange for an honest review. Thanks!
Add to Goodreads | Purchase from Amazon
The last time Lex was happy, it was before. When she had a family that was whole. A boyfriend she loved. Friends who didn't look at her like she might break down at any moment.
Now she's just the girl whose brother killed himself. And it feels like that's all she'll ever be.
As Lex starts to put her life back together, she tries to block out what happened the night Tyler died. But there's a secret she hasn't told anyone-a text Tyler sent, that could have changed everything.
Lex's brother is gone. But Lex is about to discover that a ghost doesn't have to be real to keep you from moving on.
My rating: 5 out of 5 stars
I know Cynthia Hand is kind of a big name in YA, but I hadn't read anything by her before The Last Time We Say Goodbye, since this is her first contemporary and I don't read much paranormal. And because sometimes contemporary debuts by authors who usually write paranormal don't work so well for me, I kept my expectations low. But there was no need for that because Cynthia Hand completely stunned me with The Last Time Goodbye! It's a heartwrenching novel, and I loved everything about it.
What I loved most about this novel is Lex; she's such a relatable character! In a lot of grief-related books, the main character completely shuns herself, lashes out at everyone trying to help them, and hates her therapist with a passion. And Lex does that too, to some extent, but she does it in a lot more relatable way; her relationship with her friends is very realistic, and she even ends up getting something out of her therapy. I don't even know how to explain it; I just related to her and felt for her so much.
I loved the secondary characters, too. We have a very large cast of secondary characters, so I could see how some people would criticize that they don't have enough depth. But I really appreciated the large cast because we got to see Lex interact with such a great variety of people. And I think that, even though they didn't get much page time, these characters are very well-developed and have their own stories, too, even if they're not as complex as Lexi. All of the characters just felt very real to me; I especially loved Lex's group of nerd friends and Lex's mom, whose relationship with Lex is explored in a really interesting way. I also loved how romance never takes center stage; there's definitely a romance storyline, but most of it is in the past. There are a variety of male characters, but I really appreciated that none of them turned into another love-triangle-y love interest.
Cynthia Hand's writing, and especially her ability to create such poignancy and strong emotions, definitely left me impressed. Throughout the novel, I didn't even think it was that sad, but then the last 10 pages, I was straight-up bawling; the ending is so perfect. Lex's development over the course of the novel is realistic and natural; I especially liked the subtle changes and the non-preachy discussions of guilt, and how all of that contributed to the story. I even liked the ghost element; I was kind of worried about getting too paranormal for me, but it ended up being handled really well and within our world.
This is just one of many books I've read about this topic, but The Last Time We Say Goodbye definitely stands out. It's incredibly well-written, with complex and realistic characters, and overwhelming emotions and poignancy. If you're looking for a book that will make you fall in love with the characters and break your heart in the best way possible, The Last Time We Say Goodbye is definitely for you!