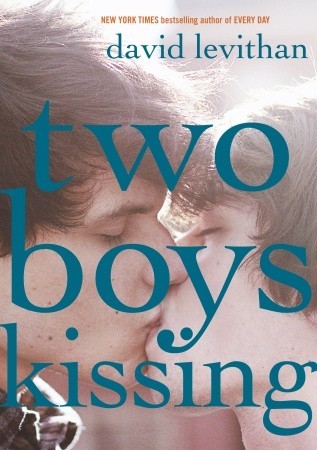 Title: Two Boys Kissing
Author: David Levithan
Publisher: Knopf BYR
Release date: August 27th 2013
Pages: 196
Genre: Young Adult contemporary
Source: Bought
Add to Goodreads | Purchase from Amazon
New York Times bestselling author David Levithan tells the based-on-true-events story of Harry and Craig, two 17-year-olds who are about to take part in a 32-hour marathon of kissing to set a new Guinness World Record—all of which is narrated by a Greek Chorus of the generation of gay men lost to AIDS.
While the two increasingly dehydrated and sleep-deprived boys are locking lips, they become a focal point in the lives of other teen boys dealing with languishing long-term relationships, coming out, navigating gender identity, and falling deeper into the digital rabbit hole of gay hookup sites—all while the kissing former couple tries to figure out their own feelings for each other.
My rating: 5 out of 5 stars
Two Boys Kissing is only my second non-collaborative David Levithan book, but I'm quickly realizing that I need to read all of them. I thought nothing could be as great as Every Day, but now I can't decide which one I liked better; they're both impressively unique and thought-provoking. I'm finally beginning to understand why David Levithan is such a big name in YA.
To be honest, Two Boys Kissing took me a while to get into, and that's because of the unusual narration. I didn't know that this was going to be narrated by a Greek Chorus of gay men who have died of AIDS, but since it's in the description, I'm going to assume I'm not spoiling it for anyone. It took me the first couple of chapter-like units of the book to understand who was talking to us, and even after that, it was kind of strange, but I got into after a while. I don't usually like omniscient narrators, and this Greek Chorus can see into everyone's heads, but somehow, it works; the transitions make it flow really nicely, rather than seeming like random thoughts from random people. This form of narration makes the novel kind of preachy at times, but I didn't mind that much either; since the preachiness is coming from the Greek Chorus of people who obviously have strong opinions about homophobia, etc., rather than the author, it's justified, in a way (even though I'm sure David Levithan would agree with them). I know some people complained that this narration made them feel less close to the characters, and that's accurate, but I didn't mind that, because one individual character isn't the point; this is their collective story. After I got into it, I really enjoyed getting little glimpses into their lives, and I think this unusual form of narration is what really made the novel stand out.
Even though this is more of a collective than an individual story, the characters are very well-developed. Some are more developed than others: I especially loved Harry and Craig and Cooper, while I didn't feel as much of a connection with the other two couples, Neil and Patrick and Ryan and Avery. Harry and Craig's parts were my favorite simply because I love this idea: it was fascinating to read about all the little things that go into making such a long kiss work, and I just love reading about random records like that. But Neil and Patrick do get bonus points for the adorable scene in the YA section of a bookstore references to other YA books and characters who read YA make me ridiculously happy.
But even more so than these individual stories, David Levithan's writing is what makes Two Boys Kissing such an exceptional novel. Just like in Every Day, there are so many quotes in Two Boys Kissing that I totally would have dog-eared if that wouldn't give me a book nerd heart attack. There are so many thoughtprovoking sentences and paragraphs you just have to read over and over because they are so powerful in their truthfulness. David Levithan's words carry so much emotion, and I cried multiple times over the course of this story, but this novel is really more hopeful and inspirational than it is sad.
If you haven't read a David Levithan book, you need to go change that right now. He has the best, most creative set-ups, and powerful, thoughtprovoking writing that will stay with you long after you've turned the last page. I can't recommend Two Boys Kissing enough.