I'm so excited to have Natalie D. Richards here for an author interview today! I really liked her debut Six Months Later, and this post is part of the blog tour for her new release, Gone Too Far.
1. I

really enjoyed the mystery element of
Six Months Later
, and it sounds like
Gone Too Far
will be heavily driven by a mystery storyline as well. What made you want to write within the contemporary YA mystery genre?
Thank you so much for your kind words about Six Months Later! Yes, Gone Too Far definitely shares that creepy what-is-going-on vibe!! I think I write thrillers and mind-benders because I love to read them. Great books come in all shapes and sizes, but there is something that gets me about a good thriller, one that keeps me up way too late, turning pages to find out what the heck is going to happen.
2. Could you talk a little bit about how writing Gone Too Far was similar to or different from writing Six Months Later?
Oh, I could write a blog, a book, an epic ten-volume series on how these processes were different. But I'll try to condense it here, so your poor readers don't get bored. ;-) Writing Six Months Later had its challenges, but Gone Too Far just about killed me. My critique partner, Romily Bernard, and I talk about it like Voldemort—the-book-that-shall-not-be-named. In essence, this is because every single thread in Gone Too Far is braided into something else. It was a very tightly woven plot and pulling at any one thing in editing, snagged the whole book. It took tremendous time and effort, but I'm really happy with how it turned out. This book required very serious focus and work and it was worth it.
3. Without spoiling anything, could you tell us what was your favorite scene to write in Gone Too Far?
Oh, man. Um. The whole chapter at the basketball game – near the end. And that's really all I can say, because it would spoil everything, but I wrote that chapter practically vibrating with energy and excitement. It had been SUCH a long ride to get there and it was such an intense scene to get out. Awesome and terrifying and thrilling all at once.
4. If you had to pair up your main character Piper with any other character from any other YA book (either romantically or as a friend), who would it be and why?
Fantastic question!! Piper would without a single question be incredibly good friends with Wick from Romily Bernard's Find Me series. They both have a raw honesty to them, and a fierce commitment to the people they love. So, yeah. I'm thinking Wick.
5. What comes easier for you, description or dialogue?
Dialogue, dialogue, dialogue. If you read my rough drafts, my characters are essentially floating around in outer space talking to each other and feeling things. I always get caught up in the suspense and relational stuff, so setting is something I always have to remember to edit back in.
6. How do you go about naming your characters?
Oh, wow, I wish I had the cool answer for this—you know, that every one of my characters has an important meaning to their name and some sort of reason that it had to be that. Really, I use nameberry.com like it's my personal naming guru (and it is) and I go completely on feel. I'll just keep saying names out loud until I'm like—yeah, that's it.




I will say there's usually one name per book that completely sticks for me. Piper was that name in Gone Too Far. She was Piper. Renaming her would have been brutally hard.
7. For any aspiring writers out there - what's the best writing advice you've ever received?
Read, read, read. Write, write, write. Never, ever, ever, EVER give up. I know that seems basic. I know it might feel like a cop-out answer, but to this day, this is what I go back to when I'm struggling or unsure. I always need to read more. I always need to write more. And I can't give up. Not ever. ;-)

Lots of writers have said similar things, but in On Writing, Stephen King said something like "Talent is a dime a dozen, it's hard work that will get you everywhere." I'm paraphrasing, but that's the thing I live by.
Thank you so much for having me!! It's great to be here and I'm thrilled that you're featuring Gone Too Far on your blog!
Thanks so much for stopping by Paperback Treasures on your blog tour!

Make sure to check out all the other stops of the blog tour, and keep your eye out for Gone Too Far! Here's what it's all about: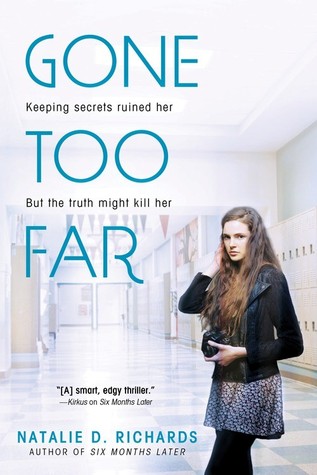 Gone Too Far by Natalie D. Richards
Piper Woods can't wait for the purgatory of senior year to end. She skirts the fringes of high school like a pro until the morning she finds a notebook with mutilated photographs and a list of student sins. She's sure the book is too gruesome to be true, until pretty, popular Stella dies after a sex-tape goes viral. Everyone's sure it's suicide, but Piper remembers Stella's name from the book and begins to suspect something much worse.
Drowning in secrets she doesn't want to keep, Piper's fears are confirmed when she receives an anonymous text message daring her to make things right. All she needs to do is choose a name, the name of someone who deserves to be punished...