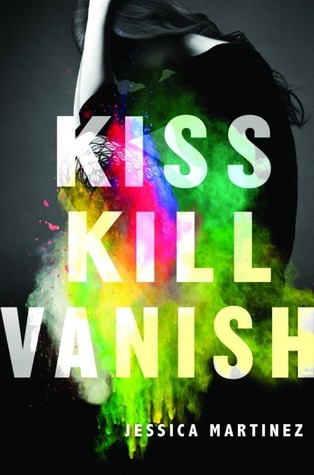 Title: Kiss Kill Vanish
Author: Jessica Martinez
Publisher: Katherine Tegen Books
Release date: October 7th 2014
Pages: 432
Genre: Young Adult contemporary/mystery
Source: Edelweiss - I received a free eGalley of this book from the publisher in exchange for an honest review. Thanks!
Add to Goodreads | Purchase from Amazon
Valentina Cruz no longer exists.
One moment, she was wrapped in Emilio's arms, melting into his kiss. The next, she was witnessing the unthinkable: a murder in cold blood, ordered by her father and carried out by her boyfriend. When Emilio pulled the trigger, Valentina disappeared. She made a split-second decision to shed her identity and flee her life of privilege, leaving the glittering parties and sultry nightlife of Miami far behind.
She doesn't know how to explain to herself what she saw. All she knows now is that nothing she believed about her family, her heart, or Emilio's love, was real.
She can change her name and deny her past, but Valentina can't run from the truth. The lines between right and wrong, and trust and betrayal, will be blurred beyond recognition as she untangles the deceptions of the two men she once loved and races to find her own truth.
My rating: 3 out of 5 stars
This is a hard book to review without spoilers. The description is really vague (it might not seem vague, but there is so much more to the story than you could tell from the description), and I think the mystery of not knowing is really important to enjoy this novel. So I'm going to try to not give anything away, but this means I might have to be pretty vague about some parts, so I apologize in advance.
The mystery had a lot of potential. There is tons of intrigue and secrets, and this whole world is fascinating to read about. Sadly, though, the pacing made it hard to really love the mystery: there are parts that dragged and could have been made a lot shorter, and then there are parts where there is just way too much going on. There are a ton of plot twists, which could have been really good, but because they're one right after the other, I kind of just lost track of what was going on. Especially in the last 100ish pages, things got kind of far-fetched and unrealistic, and Valentina became kind of irrational. This is really unfortunate because I loved all of the ideas - I just wish they had been spread out a little more to make the beginning more fast-paced and the later parts more plausible.
The characters are okay. I don't know I'd say I liked Valentina, but I did like reading about her. In the beginning, at least, it's great to see her figure out how to live by herself, without the wealth and privilege she's always known. Later on, though, she becomes a lot less independent and kind of irrational, like I said, so I didn't like reading about her quite as much anymore. There's also a romance storyline, and I'm not sure what to make of that: I really liked the banter between Valentina and the love interest, but I always just saw them as friends, so it seemed kind of weird to me when they randomly got together at the end.
I know this review doesn't really tell you anything, but that's how I feel about this book - my thoughts are kind of all-over-the-place. The mystery had a lot of potential, but I wish it had been fleshed out a bit more to make for a more plausible, realistic story. I'm not going to go around recommending this to everyone, but I'm not going to discourage you from Kiss Kill Vanish a try, either. It was just kind flat for me.