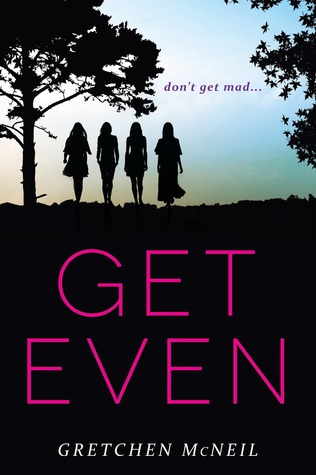 Title: Get Even (Don't Get Mad #1)
Author: Gretchen McNeil
Publisher: Balzer & Bray
Release date: September 16th 2014
Pages: 291
Genre: Young Adult mystery
Source: BEA 2014
Add to Goodreads | Purchase from Amazon
Bree, Olivia, Kitty, and Margot have nothing in common—at least that's what they'd like the students and administrators of their elite private school to think. The girls have different goals, different friends, and different lives, but they share one very big secret: They're all members of Don't Get Mad, a secret society that anonymously takes revenge on the school's bullies, mean girls, and tyrannical teachers.
When their latest target ends up dead with a blood-soaked "DGM" card in his hands, the girls realize that they're not as anonymous as they thought—and that someone now wants revenge on them. Soon the clues are piling up, the police are closing in . . . and everyone has something to lose.
My rating: 4 out of 5 stars
Get Even is such a fun read! With a suspenseful mystery along with plenty of drama, Get Even reminded me a lot of the Pretty Little Liars series, as well as Jenny Han's an Siobhan Vivian's Burn for Burn series. Just like those two series, Get Even is not the most deep and meaningful read, but it's definitely suspenseful and entertaining, and it keeps the pages turning.
I love contemporary YA mysteries, and since there aren't a ton of them out there, I'm always really excited about one coming out. So of course, the mystery is what I liked best about Get Even. The whole atmosphere is very creepy and suspenseful. Having four main characters, each with their own friends and social circle, makes for a large cast of characters and potential suspects, which makes it a little hard to keep track and make up your mind about who you think might be the killer. But in a way, I liked how this made everyone a suspect; I (like the main characters) felt like I couldn't trust anyone, which heightened the suspense even more. All of the characters have intriguing investigations going on that I really enjoyed. There are a couple of details that I didn't find entirely logical, but that might just be because we don't actually know yet what happened.
The characters are pretty good. I'll admit I had some trouble remembering who's who in the beginning (partly because the POV switches so often, rather than dedicating a whole chapter to each character), but I figured it out after a while. No, none of them are all that complex, but with 4 main characters and a plot-driven story, I really don't see how they could be. They're complex enough to be relatable, and that's all that matters, in my opinion: I understood each girl's motivations and felt for all of them in different ways, even if I didn't develop a deep connection with any of them.
My only real complaint is the ending... because there is no ending. I get that this is going to be a series, and cliffhangers blah blah blah... It's fine to end on a cliffhanger, but we essentially find out nothing about what happened. And I NEED TO KNOW, OKAY!?? And now we'll have to wait almost a year for Get Dirty, and we probably won't find out who's behind all of this until the last book in the series... URGH.
Despite the cruelly non-revealing ending, I really enjoyed Get Even. It's a quick read with a suspenseful mystery and entertaining drama, friendship, and romance. If you liked the Pretty Little Liars or Burn for Burn series, you should definitely give this one a try!