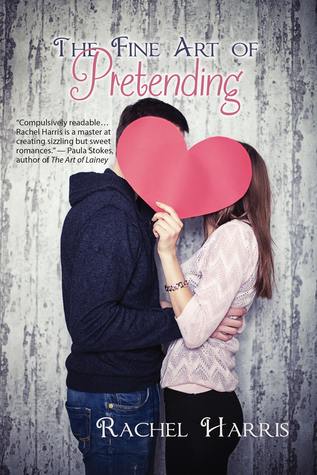 Title: The Fine Art of Pretending
Author: Rachel Harris
Publisher: Spencer Hill Contemporary
Release date: September 30th 2014
Pages: 256
Genre: Young Adult contemporary romance
Source: BEA 2014
Add to Goodreads | Purchase from Amazon
According to the guys at Fairfield Academy, there are two types of girls: the kind you hook up with, and the kind you're friends with. Seventeen-year-old Alyssa Reed is the second type. And she hates it. With just one year left to change her rank, she devises a plan to become the first type by homecoming, and she sets her sights on the perfect date—Justin Carter, Fairfield Academy's biggest hottie and most notorious player.
With 57 days until the dance, Aly launches Operation Sex Appeal and sheds her tomboy image. The only thing left is for Justin actually to notice her. Enter best friend Brandon Taylor, the school's second biggest hottie, and now Aly's pretend boyfriend. With his help, elevating from "funny friend" to "tempting vixen" is only a matter of time.
But when everything goes according to plan, the inevitable "break up" leaves their friendship in shambles, and Aly and Brandon with feelings they can't explain. And the fake couple discovers pretending can sometimes cost you the one thing you never expected to want.
My rating: 2 out of 5 stars
The cover of The Fine Art of Pretending is adorable, and when they're well done, this type of story can be really cute. Sadly, The Fine Art of Pretending doesn't belong in the "well done" category, in my opinion - the characters are frustrating, and the plot drags on with unnecessary drama about nothing. The Fine Art of Pretending just didn't work for me.
Aly rubbed me the wrong way from the first page on, since the novel starts with her plan to give herself a total makeover of appearance and personality, in order to get guys to like her. I know this was to be expected from the description, but I had somehow assumed she was making these changes for herself, rather than for male attention. But... no. The whole thing is about getting guys to like her. Her entire self-worth is based on male perceptions of her, which is problematic in so many ways. When she finds out that the guys at her school have organized girls into two groups - Casuals (girls to hook up with) and Commitments (girls to have relationships with) - she is only concerned with wanting to become a Casual, rather than being outraged at how offensive and objectifying this distinction is. Yes, I understand that Aly isn't supposed to be entirely likeable at the beginning of the novel, since the plot is about her character growth. But this character growth focuses on her learning she is really a Commitment and shouldn't try to be a Casual, rather than dismantling this ridiculous binary. The depiction of femininity within these two groups is highly stereotypical and demeaning to both "categories" of females. It also bothered me how the only way for Aly to become okay with being a Commitment is realizing that this is something guys do like - rather than becoming comfortable with herself regardless of male perceptions of her. The problems with the depiction of gender roles and definitions of femininity in this novel are just endless.
Brandon isn't much better. His views of gender are also highly problematic, but I think my feminist rant has gone on long enough, so I'll talk about my issues with his character, regardless of gender stuff, instead. Honestly, I just don't think his story was strong enough. The main obstacle standing in the way of Aly and Brandon being together, once they've realized they have feelings for each other, is that Brandon believes relationships always end and therefore aren't worth it, which he learned from seeing his mother grieve the death of his father. This idea has a lot of potential, but it isn't developed enough to actually make me feel for him. We never find out anything about his dad, other than that he died, or his mom, other than that she's grieving; they're very, very one-dimensional characters. We also never really get to see Brandon grieve his father, other than making those statements about how he learned that relationships only cause pain. If we had really gotten insight into how grief has affected his family, I could have sympathized with Brandon and understood his reluctance to start a relationship, but because the storyline is so underdeveloped, it seemed kind of contrived and constructed only to have Aly and Brandon face some kind of obstacle.
Most of the secondary characters are just personifications of stereotypes. I really wanted to get to know Aly's girl friends, but the only time they play a role is when Aly needs someone to discuss her guy troubles with; I don't think they ever have a conservation that doesn't revolve around one of their relationships with a guy. All the other characters are just the stereotypical popular high school kids who don't get real personalities. And what is up with all of these one-week relationships everyone is having?? The only other character we get a little bit of insight to is Justin, but his story is oversimplified, too.
I can't really think of a nicer way to put this; I just didn't like this book all that much. There are many books out there who do the friendship-turning-into-romance storyline a lot better than The Fine Art of Pretending does. This story is melodramatic, stereotypical, and highly problematic regarding perceptions of femininity. I just couldn't enjoy it in any way.