In My Mailbox

is a weekly meme hosted by Kristi at
The Story Siren
where you can talk about the books you bought or received this week.
Bought: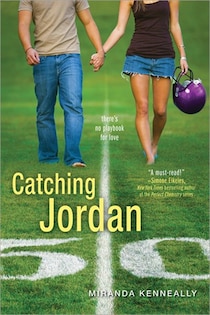 Catching Jordan by Miranda Kenneally
(
Amazon
/
Goodreads
)
What girl doesn't want to be surrounded by gorgeous jocks day in and day out? Jordan Woods isn't just surrounded by hot guys, though—she leads them as the captain and quarterback on her high school football team. They all see her as one of the guys, and that's just fine. As long as she gets her athletic scholarship to a powerhouse university. But now there's a new guy in town who threatens her starring position on the team…and has her suddenly wishing to be seen as more than just a teammate.
I've already read Catching Jordan, and it's amazing, so much fun!
Still Waters by Emma Carlson Berne
Release date: December 12th 2012
Hannah can't wait to sneak off for a romantic weekend with her boyfriend, Colin. He's leaving for college soon, and Hannah wants their trip to the lake house to be one they'll never forget.
But once Hannah and Colin get there, things start to seem a bit...off. They can't find the town on any map. The house they are staying in looks as if someone's been living there, even though it's been deserted for years. And Colin doesn't seem quite himself. As he grows more unstable, Hannah worries about Colin's dark side, and her own safety.
Nothing is as perfect as it seems, and what lies beneath may haunt her forever.
Still Waters sounds interesting, in a really creepy kind of way. I don't read many mysteries, but when I do, I almost always enjoy them!
NetGalley:
Pieces of Us by Margie Gelbwasser
(Amazon | Goodreads)
Two families. Four teens. A summer full of secrets. Every summer, hidden away in a lakeside community in upstate New York, four teens leave behind their old identities…and escape from their everyday lives. Yet back in Philadelphia during the school year, Alex cannot suppress his anger at his father (who killed himself), his mother (whom he blames for it), and the girls who give it up too easily. His younger brother, Kyle, is angry too—at his abusive brother, and at their mother who doesn't seem to care. Meanwhile, in suburban New Jersey, Katie plays the role of Miss Perfect while trying to forget the nightmare that changed her life. But Julie, her younger sister, sees Katie only as everything she's not. And their mother will never let Julie forget it. Up at the lake, they can be anything, anyone. Free. But then Katie's secret gets out, forcing each of them to face reality—before it tears them to pieces.
I really enjoyed Margie Gelbwasser's debut, Inconvenient (review), so I'm excited to read her sophomore novel!
Shooting Stars by Allison Rushby
(Amazon | Goodreads)
Meet Josephine Foster, or Zo Jo as she's called in the biz. The best pint-sized photographer of them all, Jo doesn't mind doing what it takes to get that perfect shot, until she's sent on an undercover assignment to shoot Ned Hartnett—teen superstar and the only celebrity who's ever been kind to her—at an exclusive rehabilitation retreat in Boston. The money will be enough to pay for Jo's dream: real photography classes, and maybe even quitting her paparazzi gig for good. Everyone wants to know what Ned's in for. But Jo certainly doesn't know what she's in for: falling in love with Ned was never supposed to be part of her assignment.
Shooting Stars sounds adorable and like so much fun!
What did you get in your mailbox this week?