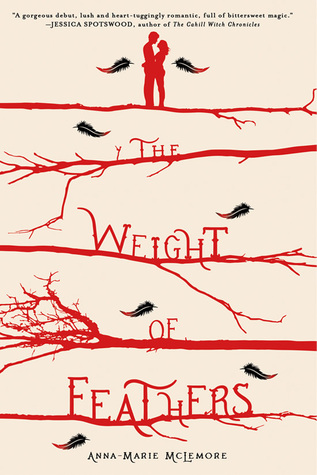 Title: The Weight of Feathers
Author: Anna-Marie McLemore
Publisher: Thomas Dunne
Release date: September 15th 2015
Pages: 308
Genre: Young Adult magical realism
Source: I received a free copy of this book from the publisher in exchange for an honest review. Thanks!
Add to Goodreads | Puchase from Amazon
The Palomas and the Corbeaus have long been rivals and enemies, locked in an escalating feud for more than a generation. Both families make their living as traveling performers in competing shows—the Palomas swimming in mermaid exhibitions, the Corbeaus, former tightrope walkers, performing in the tallest trees they can find.
Lace Paloma may be new to her family's show, but she knows as well as anyone that the Corbeaus are pure magia negra, black magic from the devil himself. Simply touching one could mean death, and she's been taught since birth to keep away. But when disaster strikes the small town where both families are performing, it's a Corbeau boy, Cluck, who saves Lace's life. And his touch immerses her in the world of the Corbeaus, where falling for him could turn his own family against him, and one misstep can be just as dangerous on the ground as it is in the trees.
My rating: 3 out of 5 stars
I'm kind of sick of Romeo and Juliet retellings, but The Weight of Feathers is a completely new take on the story and creates its own magical world to set it in, so I was intrigued from the first page on. While I had some issues with the story, the strangeness and the magic of The Weight of Feathers is what kept me turning the pages.
The writing is what carries the story. The style is very elegant and ornate, but not in an alienating way; the voice pulls you in and lets you become immersed in the world of the novel. It makes The Weight of Feathers feel kind of like a dream - I don't quite understand it, but it's beautiful nonetheless. The whole novel is very atmospheric and just has a certain energy to it which makes it impossible not to want to figure out the intricacies of the world its set in. I loved reading about both families, their shows, and their magical traits. Even when I had issues with the story or the characters, I kind of just accepted all of them to just be part of the intrinsic weirdness of this book, so I feel like I can't even criticize it.
The romance is okay but not great, and I kind of wish it hadn't taken over so much of the book (which I know is a strange thing to ask of a Romeo and Juliet retelling). I liked reading about Lace and Click when they first meet and everything that happens before they get together. Once they're together, though, the romance got a little too idealized for my tastes; we're told that the two of them are so perfect together and they both talk about their love for the other, but I never really felt it. It wasn't quite insta-love, but I do think they fell for each other too quickly for the romance to work for me. And the plot twist towards the end that affects their relationship kind of weirded me out, to be honest.
Not just the romance but really, the characters themselves, just aren't that strong. They have interesting backstories and live in a fascinating world, but I don't feel like I ever got to know neither Lace nor Cluck as people. I had some smaller issues with the novel, too, like the unevenness of the pacing, and the randomness of what parts of the story are based in logic and the rules of our own world and which parts are simply explained by magic.
I'm sorry that this review is so all over the place, but I'm still not really sure what to make of The Weight of Feathers. It's just really weird, but weird in an enthralling way that makes it impossible to put the book down. I didn't like everything about it, but I just kind of accepted that even these things that bothered me were just part of the uniqueness of this book. I'm still not sure if I actually liked this book, but if you're looking for a strange and unique read, you should definitely give this one a try.