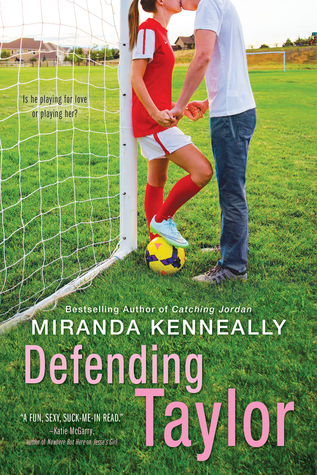 Title: Defending Taylor
Author: Miranda Kenneally
Publisher: Sourcebooks Fire
Release date: July 5th 2016
Pages: 304
Genre: Young Adult contemporary romance
Source: NetGalley - I received a free eGalley of this book from the publisher in exchange for an honest review. Thanks!
Add to Goodreads | Puchase from Amazon
Captain of the soccer team, president of the Debate Club, contender for valedictorian: Taylor's always pushed herself to be perfect. After all, that's what is expected of a senator's daughter. But one impulsive decision—one lie to cover for her boyfriend—and Taylor's kicked out of private school. Everything she's worked so hard for is gone, and now she's starting over at Hundred Oaks High.
Soccer has always been Taylor's escape from the pressures of school and family, but it's hard to fit in and play on a team that used to be her rival. The only person who seems to understand all that she's going through is her older brother's best friend, Ezra. Taylor's had a crush on him for as long as she can remember. But it's hard to trust after having been betrayed. Will Taylor repeat her past mistakes or can she score a fresh start?
My rating: 4 out of 5 stars
It's no secret I love the Hundred Oaks series, especially the first couple of books. The last book, Jesse's Girl, didn't impress me quite as much as the earlier ones, and neither did Defending Taylor, but they're both still stellar additions to the series. I loved everything about Defending Taylor, but it just didn't resonate with me the way some of Miranda Kenneally's previous books did.
Taylor is a very unique character. She's a pretty typical YA MC in how driven and smart she is, but her background and her decisions before and during this book make her stand out. She's not always easy to like because her naivete and privilege do show at times, but I still liked her most of the time. Despite her privilege, she's going to a relatable character for overachieving teens under a lot of pressure to succeed. I especially loved how tough she is and how she always speaks her mind, especially in regards to soccer and her relationship with Ezra. I had some issues with how judgmental and hypocritical she is about some things (like when she talks about drugs, condemning the guy who asks her for Ritalin, when she's been taking Adderall, which is almost the same thing), but I liked her nonetheless.
And Ezra, I absolutely loved. One of my favorite things about Miranda Kenneally's books is that they often have older, out-of-high-school love interests, which doesn't happen often in YA. Ezra is Taylor's older brother's best friend, which has definitely been done before, but it works so well! The two of them have great chemistry, and I love how Ezra's backstory and secrets are woven into the novel. But even though I loved Ezra, there was something missing in the romance department; even though I appreciate that this is a different kind of romance because Taylor and Ezra have known each other forever, the way they got together seemed a little too easy, and I kind of missed the novelty and drama of seeing two people meet and figuring out if they actually work together.
I loved the secondary characters, too. Even though we don't get to know Taylor's parents too well, I loved reading about the politics element of the novel, seeing how Taylor's decisions influenced her dad's election and what role the media played in all of this. I loved getting to know Taylor's older siblings, Jenna and Oliver. And I also loved seeing friendships slowly develop between Taylor and the girls on the Hundred Oaks soccer team. I wish the soccer element had been explored even more, and I especially wanted more closure in relation to Nicole, the team captain/bully in order to see what might happen next for the team.
Despite these minor complaints, Defending Taylor is still a stellar book. It's not an all-time favorite of mine the way Catching Jordan and Breathe, Annie, Breathe have become, but it's definitely a cute romance with Miranda Kenneally's trademark engaging writing, keen understanding of teen relationships, and personable, realistic characters. While I would recommend starting with a different book of hers, fans of the series should definitely check this one out!