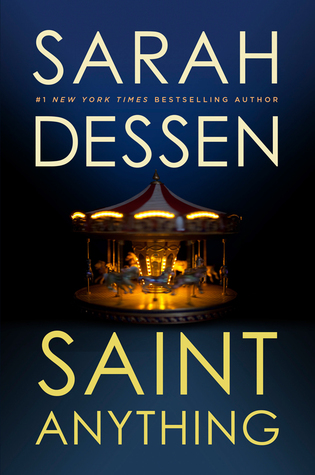 Title: Saint Anything
Author: Sarah Dessen
Publisher: Viking Juvenile
Release date: May 5th 2015
Pages: 417
Genre: Young Adult contemporary
Source: Bought
Add to Goodreads | Puchase from Amazon
Peyton, Sydney's charismatic older brother, has always been the star of the family, receiving the lion's share of their parents' attention and—lately—concern. When Peyton's increasingly reckless behavior culminates in an accident, a drunk driving conviction, and a jail sentence, Sydney is cast adrift, searching for her place in the family and the world. When everyone else is so worried about Peyton, is she the only one concerned about the victim of the accident?
Enter the Chathams, a warm, chaotic family who run a pizza parlor, play bluegrass on weekends, and pitch in to care for their mother, who has multiple sclerosis. Here Sydney experiences unquestioning acceptance. And here she meets Mac, gentle, watchful, and protective, who makes Sydney feel seen, really seen, for the first time.

My rating: 4 out of 5 stars
I've been reading Sarah Dessen since I was a pre-teen, and I still haven't stopped loving her. Her books always follow the same formula - and with any other author, I would consider that a bad thing and call it an overused trope. But Sarah Dessen does this type of story so well that I don't even care: her characters are always unique and lovable, and I could read her stories over and over again. Saint Anything has proven yet again why Sarah Dessen is one of my all-time favorite authors.
Sydney is a typical Sarah Dessen protagonist, and I loved her. She's pretty "ordinary" - introverted and quiet, like most YA heroines. But Sarah Dessen's writing style and strong character-driven stories make every single character come to life, and it's so easy to connect with Sydney. Layla is the quirky friend who, along with the rest of her family, changes Sydney's life - again, could be an overdone trope, but it's so well-written that it works; this is just what Sarah Dessen does.Layla is more than a trope, she's a passionate, outgoing character who fiercely cares about Sydney and french fries.
And of course, there's Mac. I absolutely loved how slowly the romance develops - Sydney becomes friends with the entire family first, and then slowly develops a crush on Mac. Even when the romance takes off in the second half, it's not the main focus; it's just one part of Sydney's story, which I loved. Mac is the unassuming kind of perfect: he really sees Sydney, and their chemistry is more than intense. I was swooning and rooting for them for the entire novel, wishing they would just get together already but also appreciating the slow burn of their relationship.
Even though Mac was the main attraction for me, the secondary characters are great, too. I loved Eric and Irv, the other entertaining members of their friend group, and Mrs. Catham, Layla and Mac's mom, who gives Sydney some great insights. And Mr. Catham, who owns the pizza shop where large parts of the story are set - don't read this book on an empty stomach! Then there's Sydney's own family: her parents aren't as easy to love, but their dynamics are fascinating nonetheless. I especially loved seeing Sydney's relationship with Payton develop over the course of the novel; I just wish we would have gotten to see a face-to-face interaction at some point. But the way it is makes sense with the whole story, and I loved the development in their family dynamics at the end. The only story that I think was wrapped up a little too nicely is the one with Ames...
Saint Anything is such an adorable story. Just looking at the cover makes me happy because it reminds of Saint Anything (the one in the book) and the carousel. Every little detail of this story and this writing are perfect, the way it always is in Sarah Dessen's book. I don't even know what else to say - I'm just a hopeless Sarah Dessen fangirl and I will read anything she writes.