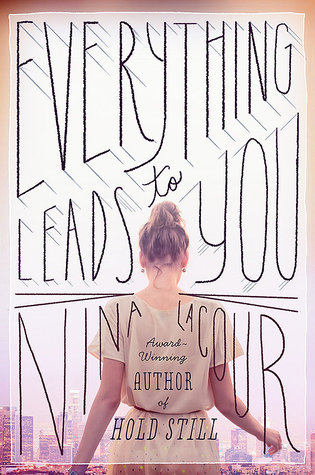 Title: Everything Leads to You
Author: Nina LaCour
Publisher: Dutton BYR
Release date: May 15th 2014
Pages: 307
Genre: Young Adult contemporary
Source: Bought
Add to Goodreads | Puchase from Amazon
A wunderkind young set designer, Emi has already started to find her way in the competitive Hollywood film world.
Emi is a film buff and a true romantic, but her real-life relationships are a mess. She has desperately gone back to the same girl too many times to mention. But then a mysterious letter from a silver screen legend leads Emi to Ava. Ava is unlike anyone Emi has ever met. She has a tumultuous, not-so-glamorous past, and lives an unconventional life. She's enigmatic…. She's beautiful. And she is about to expand Emi's understanding of family, acceptance, and true romance.
My rating: 5 out of 5 stars
I already had high expectations for Everything Leads to You based on my love for Nina LaCour's debut, Hold Still, but Everything Leads to You was so much better than I could have imagined. With unique, diverse characters, poignant writing, a fascinating setting, and an engrossing story, Everything Leads to You is absolute perfection.
Emi is a very realistic character. I wanted to smack her for some of her stupid decisions, but I also completely understood her reasoning. I don't really know how to describe her, not because she's bland but rather because she's so dynamic and life-like that it's hard to capture in a couple of sentences. In some ways, she feels older than most YA MCs - the book starts right before graduation and is mostly set over the summer after, and high school is never a focus. But despite her impressive career, there are times the seventeen-year-old in her definitely comes out, and I love how Nina LaCour plays with that. Even though Emi is the narrator and protagonist, a lot of Everything Leads to You is Ava's story. Maybe even more so than Emi, Ava is a very unique character with a fascinating background story.
I've read other reviews saying they found the mystery surrounding Ava too predictable, but that wasn't a problem for me because I never expected this to be some kind of thriller-esque mystery; yes, the actual revelations are predictable, but the focus is on the emotional reactions rather than the revelations themselves. The emotions are what carry this story.
I loved the relationship between Emi and Ava - it develops slowly and authentically, and while I wish I could have seen them together for longer, I appreciate how Nina LaCour took her time to explore their identities and their platonic friendship before turning it into anything more than that. The secondary characters are amazing as well - I loved Emi's relationship with her best friend Charlotte and with her parents, and I appreciate what Toby, Jamal, and Morgan brought to the story.
Even though writing-wise, the characters are what's most impressive, my favorite part was probably reading about the world of movies. We learn so much about Emi's job - a job I didn't even know existed. It was fascinating to see how much work goes into set design, how much time Emi spends trying to find the perfect props; Emi's passion is infectious. Emi's view of movies is jaded - the Collapse of the Fantasy of knowing what really goes on behind the scenes - but her love for movies still shines through, a combination I loved and that worked really well to help Nina LaCour make her bigger points about the story.
This review wouldn't be complete without mentioning how happy I am about the level of diversity in this novel. Everything Leads to You is a book about a biracial lesbian that doesn't focus on either her race or her sexuality, which by itself is kind of a miracle. Emi being gay is never the main focus; this just happens to be a love story about two girls. This is exactly the kind of representation we need. Even though the novel is never focused just on Emi's sexuality, many issues that affect LGBTQ youth - like issues with parents or with homophobic friends, or the massive numbers LGBTQ homeless teens - are addressed as elements of the plot. The characters are racially diverse, and to top it all off, Emi's mother is a professor of gender studies and black studies. Basically, this book is just scoring diversity points all across the board.
Despite all the praise, I don't think I've accurately captured what's so amazing about this novel. It's the voice, the spirit of it all, that makes it such an absorbing read, equal parts fun and thought-provoking. Nina LaCour's writing is amazing; I don't know what else to say but to tell you to read this book. Everything Leads to You is one I know will stay with me for a long time.