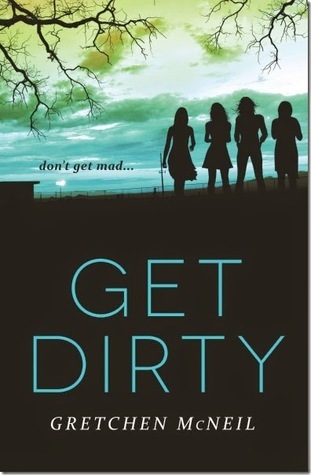 Title: Get Dirty (Don't Get Mad #2)
Author: Gretchen McNeil
Publisher: Balzer & Bray
Release date: June 16th 2015
Pages: 384
Genre: Young Adult mystery
Source: Edelweiss - I received a free advance copy of this book from the publisher in exchange for an honest review. Thanks!
Add to Goodreads | Purchase from Amazon
The members of Don't Get Mad aren't just mad anymore . . . they're afraid. And with Margot in a coma and Bree stuck in juvie, it's up to Olivia and Kitty to try to catch their deadly tormentor. But just as the girls are about to go on the offensive, Ed the Head reveals a shocking secret that turns all their theories upside down. The killer could be anyone, and this time he—or she—is out for more than just revenge.
The girls desperately try to discover the killer's identity as their personal lives are falling apart: Donté is pulling away from Kitty and seems to be hiding a secret of his own, Bree is under house arrest, and Olivia's mother is on an emotional downward spiral. The killer is closing in, the threats are becoming more personal, and when the police refuse to listen, the girls have no choice but to confront their anonymous friend . . . or die trying.
My rating: 3 out of 5 stars
Get Even was such a fun read, but because it was so Pretty Little Liars-esque, I was assuming this series would also go on forever, and I didn't really want to get that invested. So I was happily surprised when I found out that this series was just going to be a duology (for now?), and since I did want to see how this mystery is resolved, I decided to read the sequel.
Get Dirty was really hard for me to get into. It had been a while since I read Get Even, and I have a horrible memory - I rarely remember what happens in a book, so when I'm reading a series, I'm always dependent on those mini-summaries and hints at the beginning, explaining what happened in the last book. And Get Dirty just didn't have enough of those hints for me, so I spent 75% of the book pretty confused about who was who and what had happened to them. I know that's kind of my own fault for not remembering Get Even, but I would have appreciated some more explanations of the first book in this one.
Not remembering what happened in Get Mad made the mystery hard to follow. There would be references to past suspects and things DGM had found out in the first books that I didn't really understand. It was hard to figure out who to suspect when I didn't really know what had happened before. I still really enjoyed the mystery - the threatening atmosphere is well-done and kept me emotionally invested, but I just think I would have enjoyed it a lot more if I remembered all the clues from the first book.
Even though I didn't remember much about them from the first book, I did really like the main characters. The stakes each of them has in this are very personal, and I liked reading about each girl's family dynamic and friend group.
While I'm glad things were resolved in Get Dirty, the resolution was a bit of a letdown for me. The last scene is a bit anticlimactic because there's too much of an info-dump to justify the killer's motivations, and because there's no real showdown between DGM and the killer when they do find him - he just automatically gets arrested and that's it. And despite the info-dump, there were still some things that weren't clear to me - the motivation for the murders made sense, but it didn't really work for the disappearances or for attacking Margo.
Get Dirty was a very mediocre read for me. I remember Get Even being a lot more fun and suspenseful than this one, but I did enjoy some of the same elements that I liked in the first book. If you enjoyed Get Even and want to see how it turns out, I do recommend Get Dirty, just don't have the highest expectations. And maybe, if your memory is as bad as mine, reread Get Even before starting the sequel - I think the story would have made a lot more sense to me that way.