Today we have Katie M. Stout here for an author interview! This interview is part of the blog tour for her YA debut, Hello, I Love You.
1.
Without spoiling anything, could you tell us what was your favorite scene to write in
Hello, I Love You?
My favorite scene is definitely spoiler-y! What I can say is that all the scenes with Grace and her mother are my some of my favorites. The interplay between those two was something I really enjoyed exploring. Her mom is just so terrible, even I as the author cringed writing some of her dialogue. But the heart of the story for me is Grace's relationship with her family, so those scenes flowed really easily for me, and I loved writing them.
2. If you had to pair up your main character Grace from Hello, I Love You with any other character from any other YA book (either romantically or as a friend), who would it be and why?
I'd love to see Grace hang out with Rose Hathaway from Vampire Academy. They're both fierce, opinionated ladies that have a lot of growing up to do. But in their hearts, I think they're both kind, compassionate people who have been hurt by the world and have reacted in a way that isn't great - but they have the potential for being strong women.
3. What comes easier for you - dialogue or description?
Oh, description for sure. I could write that for days. I had to be really careful not to weigh down this book with too much.
4.
How do you go about naming your characters?
I don't really have a system for this. The characters in this book all got named in different ways. I researched popular names in Korea for Tae Hwa's and Yoon Jae's names. But then Grace's sort of came to me, and I really love it, because I think it's exactly what she has to learn through the story: grace.
5. For any aspiring writers out there - what's the best writing advice you've ever received?
Go out and live your life. The best stories come from personal experiences.
Make sure to check out all the other stops of the blog tour, and keep your eye out for Hello, I Love You,
which was released June 9th. You can also check out Katie's Spotify playlist for the book here.
Here's what the book is all about: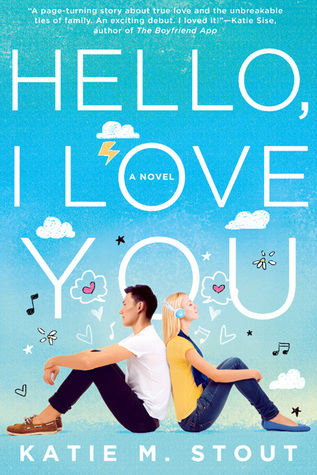 Hello, I Love You by Katie M. Stout
Grace Wilde is running—from the multi-million dollar mansion her record producer father bought, the famous older brother who's topped the country music charts five years in a row, and the mother who blames her for her brother's breakdown. Grace escapes to the farthest place from home she can think of, a boarding school in Korea, hoping for a fresh start.
She wants nothing to do with music, but when her roommate Sophie's twin brother Jason turns out to be the newest Korean pop music superstar, Grace is thrust back into the world of fame. She can't stand Jason, whose celebrity status is only outmatched by his oversized ego, but they form a tenuous alliance for the sake of her friendship with Sophie. As the months go by and Grace adjusts to her new life in Korea, even she can't deny the sparks flying between her and the KPOP idol.
Soon, Grace realizes that her feelings for Jason threaten her promise to herself that she'll leave behind the music industry that destroyed her family. But can Grace ignore her attraction to Jason and her undeniable pull of the music she was born to write? Sweet, fun, and romantic, this young adult novel explores what it means to experience first love and discover who you really are in the process.