Today we have Juliana Stone here for an author interview! This interview is part of the blog tour for her newest release, Some Kind of Normal.
1.
Without spoiling anything, could you tell us what was your favorite scene to write in
Some Kind of Normal?
Ah, that's easy! (kinda because I've got two!) The scene at the drive-in really hit home to me, when Everly is surrounded by hundreds of kids but has never felt more alone. I remember feeling like that.
2. If you had to pair up your main character Lucy with any other character from any other YA book (either romantically or as a friend), who would it be and why?
I think Caleb from Simone Elkeles's book Leaving Paradise. They both have secrets and trauma and are involved with girls who have the same. They could totally support each other I think.
3. What comes easier for you - dialogue or description?
Dialogue hands down. I love writing dialogue and spend half of my time at home talking as I write! My daughter thinks I'm sorta crazy but that's okay!
4.
How do you go about naming your characters?
Funny thing is, I can't start writing a book until I have the perfect name for a character. I usually envision my character and go from there. I have found that there are certain names I tend to use more than once and then have to go back! (Jake is one!)
5. For any aspiring writers out there - what's the best writing advice you've ever received?
Write from your heart. Never give up. Know that the journey is long and not for the faint of heart. Honestly, writing is the hardest job I've ever had but also the most worthwhile!
Make sure to check out all the other stops of the blog tour, and keep your eye out for Some Kind of Normal,
which was released May 5th. Here's what it's all about: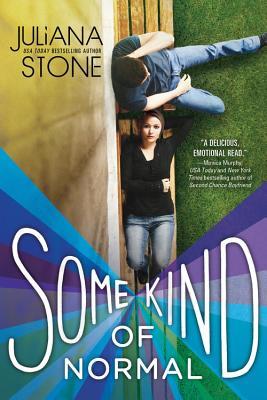 Some Kind of Normal by Juliana Stone
SFor Trevor normal was fast guitar licks, catching game-winning passes and partying all night. Until a car accident leaves Trevor with no band, no teammates and no chance of graduating. It's kinda hard to ace your finals when you've been in a coma. The last thing he needs is stuck-up Everly Jenkins as his new tutor—those beautiful blue eyes catching every last flaw.
For Everly normal was a perfect family around the dinner table, playing piano at Sunday service and sunning by the pool. Until she discovers her whole life is a lie. Now the perfect pastor's daughter is hiding a life-changing secret, one that is slowly tearing her family apart. And spending the summer with notorious flirt Trevor Lewis means her darkest secret could be exposed.