So I just saw Barnes and Noble's Fathers Day post, The 5 Best Dads in YA, and decided to steal the idea and make my own list - so any credit for this idea goes to B&N! I wish I had actually had this idea myself, and earlier, so I could have made one on Mothers Day, too, but oh well. Either way, absentee parents are often an issue in YA, so I wanted to honor those dads in YA who a) play an important role in the story and b) are awesome. So here goes!
All links go to my reviews of these books!
1. How to Say Goodbye in Robot by Natalie Standiford
How to Say Goodbye in Robot is one of my favorite books of all time. Family is not the main focus, and even within the family part of the novel, we get to read more about Bea's mom's issues than about her dad. But even though he's not one of the central characters, I absolutely loved Bea's dad - he's so sweet and supportive, and their relationship is adorable to read about.
2. Stay by Deb Caletti
Stay is about a girl with a single dad. (Well, it's really about a girl escaping from an abusive relationship. But those are the family dynamics.) Having only Clara and her dad as the main characters (at least in the present part of the novel) gives lots of room to explore their relationship, and I loved it. Clara's dad is supportive and trying to be strong for his daughter but also has his vulnerabilities. I even loved the small romance storyline he gets in this one!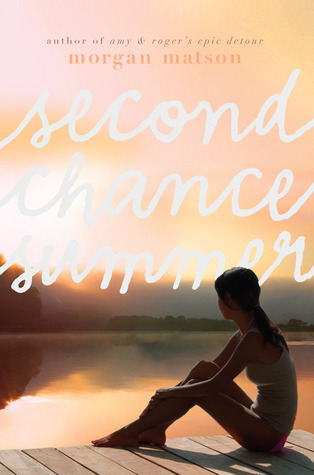 3. Second Chance Summer by Morgan Matson
Second Chance Summer is about the impending death of the main character's father, so of course he plays an important role in the story. The whole family takes one last vacation together, which provides a really great setting to explore the family dynamics. The relationship between Taylor and her dad is exceptionally well-done: it's sad to see how it develops, since his health is deteriorating every day, but it's also really sweet to see how the two of them help each other out.
4. Please Ignore Vera Dietz by AS King
I didn't want to include this one because it's on B&N's list, and I didn't want to steal any more of their ideas. (That's also why My Life After Now by Jessica Verdi and Lola and the Boy Next Door by Stephanie Perkins aren't on here, even though those books have two awesome dads each.) But I couldn't not include Please Ignore Vera Dietz, because Vera's relationship with her dad is so moving to read about. Please Ignore Vera Dietz is a very dark book and nothing in her life is perfect, so that includes her relationship with her dad. They definitely fight a lot, but the way they ultimately care about each other, after all they've been through, is evident in each interaction.
5. Moonglass by Jessi Kirby
Moonglass is another novel where the main character's mother has died, leaving us with a complicated father-daughter relationship. There's some tension surrounding the mystery of Anna's mom's death, but her relationship with her dad is strong enough to get through that. This is another father-daughter relationship that balances the conflicts perfectly with how much they care for and support each other.
Who are your favorite dads in YA?