New releases: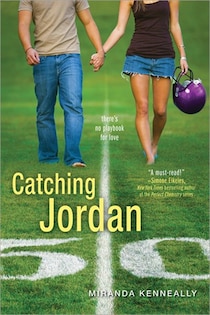 Catching Jordan by Miranda Kenneally
(
Amazon
/
Goodreads
)
Release date: December 1st 2011
What girl doesn't want to be surrounded by gorgeous jocks day in and day out? Jordan Woods isn't just surrounded by hot guys, though—she leads them as the captain and quarterback on her high school football team. They all see her as one of the guys, and that's just fine. As long as she gets her athletic scholarship to a powerhouse university. But now there's a new guy in town who threatens her starring position on the team…and has her suddenly wishing to be seen as more than just a teammate.
Wintertown by Steve Edmond
(Amazon / Goodreads)
Release date: December 5th 2011
Every winter, straight-laced, Ivy League bound Evan looks forward to a visit from Lucy, a childhood pal who moved away after her parent's divorce. But when Lucy arrives this year, she's changed. The former "girl next door" now has chopped dyed black hair, a nose stud, and a scowl. But Evan knows that somewhere beneath the Goth, "Old Lucy" still exists, and he's determined to find her... even if it means pissing her off.
Ruthless (Pretty Little Liars #10) by Sarah Shepard
(Amazon / Goodreads)
For years scandal has rocked Rosewood, Pennsylvania—and high school seniors Aria, Emily, Hanna, and Spencer have always been at the center of the drama. They've lost friends, been targeted by a ruthless stalker named A, and narrowly escaped death. And it's not over yet.
Aria's love life is on the fritz. Emily's exploring her wild side. Hanna's kissing the enemy. And someone from Spencer's past—someone she never thought she'd see again—is back to haunt her.
But none of that compares to what happened last spring break. It's their darkest secret yet and guess who found out? Now A is determined to make them pay for their crime, and the only thing scarier than A is the fear that maybe, just maybe, they deserve what's coming to them.
The Probability of Miracles by Wendy Wunder
Release date: December 8th 2012
Dry, sarcastic, sixteen-year-old Cam Cooper has spent the last seven years in and out hospitals. The last thing she wants to do in the short life she has left is move 1,500 miles away to Promise, Maine - a place known for the miraculous events that occur there. But it's undeniable that strange things happen in Promise: everlasting sunsets; purple dandelions; flamingoes in the frigid Atlantic; an elusive boy named Asher; and finally, a mysterious envelope containing a list of things for Cam to do before she dies. As Cam checks each item off the list, she finally learns to believe - in love, in herself, and even in miracles.
Release date: December 12th 2012
Hannah can't wait to sneak off for a romantic weekend with her boyfriend, Colin. He's leaving for college soon, and Hannah wants their trip to the lake house to be one they'll never forget.
But once Hannah and Colin get there, things start to seem a bit...off. They can't find the town on any map. The house they are staying in looks as if someone's been living there, even though it's been deserted for years. And Colin doesn't seem quite himself. As he grows more unstable, Hannah worries about Colin's dark side, and her own safety.
Nothing is as perfect as it seems, and what lies beneath may haunt her forever.
Release date: December 27th 2012
When her parents split, Marcie is dragged from Idaho to a family summerhouse in New Hampshire. She leaves behind her friends, a group of freaks and geeks called the Leftovers, including her emo-rocker boyfriend, and her father. By the time Labor Day rolls around, Marcie suspects this "vacation" has become permanent. She starts at a new school where a cute boy brings her breakfast and a new romance heats up. But understanding love, especially when you've watched your parents' affections end, is elusive. What does it feel like, really? Can you even know it until you've lost it?
Why We Broke Up by Daniel Handler
Release date: December 27th 2012
I'm telling you why we broke up, Ed. I'm writing it in this letter, the whole truth of why it happened.
Min Green and Ed Slaterton are breaking up, so Min is writing Ed a letter and giving him a box. Inside the box is why they broke up. Two bottle caps, a movie ticket, a folded note, a box of matches, a protractor, books, a toy truck, a pair of ugly earrings, a comb from a motel room, and every other item collected over the course of a giddy, intimate, heartbreaking relationship. Item after item is illustrated and accounted for, and then the box, like a girlfriend, will be dumped.
Re-releases / new in paperback:
Fixing Delilah by Sarah Ockler
Release date: December 5th 2011
Things in Delilah Hannaford's life have a tendency to fall apart. She used to be a good student, but she can't seem to keep it together anymore. Her "boyfriend" isn't much of a boyfriend. And her mother refuses to discuss the fight that divided their family eight years ago. Falling apart, it seems, is a Hannaford tradition. Over a summer of new friendships, unexpected romance, and moments that test the complex bonds between mothers and daughters, Delilah must face her family's painful past. Can even her most shattered relationships be pieced together again?
Grace by Elizabeth Scott
(Amazon / Goodreads)
Release date: December 8th 2011
Grace was raised to be an Angel, a herald of death by suicide bomb. But she refuses to die for the cause, and now Grace is on the run, daring to dream of freedom. In search of a border she may never reach, she travels among malevolent soldiers on a decrepit train crawling through the desert. Accompanied by the mysterious Kerr, Grace struggles to be invisible, but the fear of discovery looms large as she recalls the history and events that delivered her uncertain fate.
These are this month's releases I'm anticipating. What December releases are you most excited about?