In My Mailbox

is a weekly meme hosted by Kristi at
The Story Siren
where you can talk about the books you bought or received this week.
I didn't buy any books this week, but I got a few from NetGalley: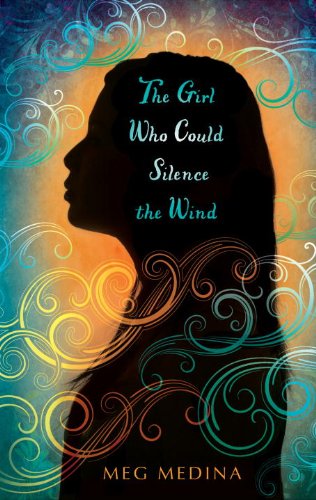 The Girl Who Could Silence the Wind by Meg Medina
(
Amazon
/ Goodreads)
Sixteen-year-old Sonia Ocampo was born on the night of the worst storm Tres Montes had ever seen. And when the winds mercifully stopped, an unshakable belief in the girl's protective powers began. All her life, Sonia has been asked to pray for sick mothers or missing sons, as worried parents and friends press silver milagros in her hands. Sonia knows she has no special powers, but how can she disappoint those who look to her for solace? Still, her conscience is heavy, so when she gets a chance to travel to the city and work in the home of a wealthy woman, she seizes it. At first, Sonia feels freedom in being treated like all the other girls. But when news arrives that her beloved brother has disappeared while looking for work, she learns to her sorrow that she can never truly leave the past or her family behind. With deeply realized characters, a keen sense of place, a hint of magical realism, and a flush of young romance, Meg Medina tells the tale of a strongwilled, warmhearted girl who dares to face life's harsh truths as she finds her real power.
The cover is gorgeous, and I love the idea for The Girl Who Could Silence the Wind!
Under the Never Sky by Veronica Rossi
(Amazon / Goodreads)
Aria is a teenager in the enclosed city of Reverie. Like all Dwellers, she spends her time with friends in virtual environments, called Realms, accessed through an eyepiece called a Smarteye. Aria enjoys the Realms and the easy life in Reverie. When she is forced out of the pod for a crime she did not commit, she believes her death is imminent. The outside world is known as The Death Shop, with danger in every direction.
As an Outsider, Perry has always known hunger, vicious predators, and violent energy storms from the swirling electrified atmosphere called the Aether. A bit of an outcast even among his hunting tribe, Perry withstands these daily tests with his exceptional abilities, as he is gifted with powerful senses that enable him to scent danger, food and even human emotions.
They come together reluctantly, for Aria must depend on Perry, whom she considers a barbarian, to help her get back to Reverie, while Perry needs Aria to help unravel the mystery of his beloved nephew's abduction by the Dwellers. Together they embark on a journey challenged as much by their prejudices as by encounters with cannibals and wolves. But to their surprise, Aria and Perry forge an unlikely love - one that will forever change the fate of all who live UNDER THE NEVER SKY.
Under the Never Sky isn't the type of book I'd normally read, but it sounds like so much fun!
New Girl by Paige Harbison
(Amazon / Goodreads)



They call me 'New Girl'...
Ever since I arrived at exclusive, prestigious Manderly Academy, that's who I am. New girl. Unknown. But not unnoticed—because of her.
Becca Normandy—that's the name on everyone's lips. The girl whose picture I see everywhere. The girl
I can't compare to. I mean, her going missing is the only reason a spot opened up for me at the academy.
And everyone stares at me like it's my fault.
Except for Max Holloway—the boy whose name shouldn't be spoken. At least, not by me. Everyone thinks of him as Becca's boyfriend…but she's gone, and here I am, replacing her. I wish it were that easy. Sometimes, when I think of Max, I can imagine how Becca's life was so much better than mine could ever be.
And maybe she's still out there, waiting to take it back


New Girl sounds amazing, so intriguing! I'm really excited to read it!

I also got some awesome swag for Catching Jordan by Miranda Kenneally!

What did you get in your mailbox this week?