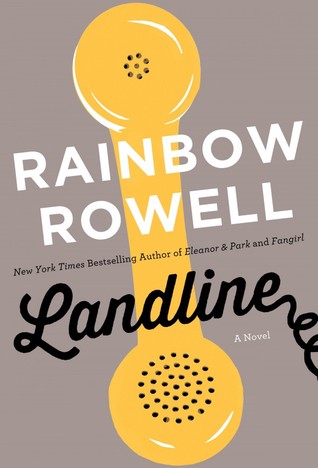 Title: Landline
Author: Rainbow Rowell
Publisher: St. Martin's Press
Release date: July 8th 2014
Pages: 320
Genre: adult contemporary
Source: BEA 2014
Add to Goodreads | Purchase from Amazon
Georgie McCool knows her marriage is in trouble. That it's been in trouble for a long time. She still loves her husband, Neal, and Neal still loves her, deeply — but that almost seems besides the point now.
Maybe that was always besides the point.
Two days before they're supposed to visit Neal's family in Omaha for Christmas, Georgie tells Neal that she can't go. She's a TV writer, and something's come up on her show; she has to stay in Los Angeles. She knows that Neal will be upset with her — Neal is always a little upset with Georgie — but she doesn't expect to him to pack up the kids and go home without her.
When her husband and the kids leave for the airport, Georgie wonders if she's finally done it. If she's ruined everything.
That night, Georgie discovers a way to communicate with Neal in the past. It's not time travel, not exactly, but she feels like she's been given an opportunity to fix her marriage before it starts . . .
Is that what she's supposed to do?
Or would Georgie and Neal be better off if their marriage never happened?
My rating: 4 out of 5 stars
I absolutely loved Rainbow Rowell's YA books Fangirl and Eleanor & Park, but I still tried to keep my expectations low for Landline, since this is adult fiction and bound to be different from the YA Rainbow Rowell has written. Thankfully, that wasn't necessary, because I loved Landline too! It's definitely different from Fangirl and Eleanor & Park, but it's amazing in its own way.
I just love Rainbow Rowell's writing. Her humor shines through in this novel, making the whole book entirely pleasant to read. But even though it's accurate, I don't think "pleasant" is giving Rainbow Rowell enough credit - her writing is also poignant and thought-provoking. Despite all of these marriage issues not really being something I'm concerned with at the moment, the novel did make me think a lot about relationships and love and life and all that good stuff. Rainbow Rowell's writing is just so engaging and entertaining and poignant and perfect.
I loved Georgie's voice and character. This goes along with Rainbow Rowell's writing style, but I loved the narrator's humor and self-deprecating way of speaking. Georgie is so easy to relate to, and I really felt for her. I loved the secondary characters, too: Seth, Georgie's mom, and Heather all have really entertaining stories that contribute a lot to the main plot. The only character that I didn't really get to know is Neal, which is kind of problematic, since he's kind of the second most important character, but also makes sense because the novel is about Georgie and Neal spending time apart.
If anyone else had written the plot, the time travel-esque thing would have probably seemed cliched and kind of ridiculous. But Rainbow Rowell's writing makes it work: everything about the magic phone seemed realistic (even though it's obviously not), and I loved reading about it. I really enjoyed the rest of the plot, too, and loved getting to see the two periods in their relationship play out at the same time. The only thing I didn't love was the ending: it just seemed a little too perfect and happy for me. Then again. I wouldn't have wanted the story to end any other way, so I guess I can't complain.
Landline didn't speak to me quite as much as Rainbow Rowell's YA novels did, but I did really enjoy it. Landline is an equally entertaining and thought-provoking story that will undoubtedly bring a smile to your face. If you haven't read anything by Rainbow Rowell, that needs to change right now, and I can't wait to see what she writes next!