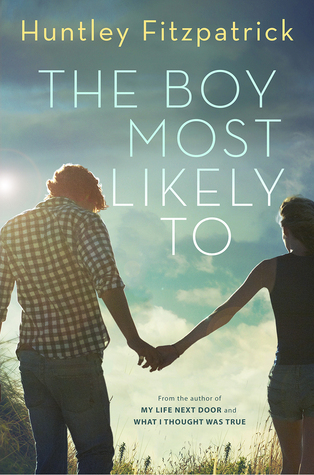 Title: The Boy Most Likely To
Author: Huntley Fitzpatrick
Publisher: Dial Books
Release date: August 18th 2015
Pages: 425
Genre: Young Adult contemporary
Source: Bought
Add to Goodreads | Puchase from Amazon
Tim Mason was The Boy Most Likely To find the liquor cabinet blindfolded, need a liver transplant, and drive his car into a house

Alice Garrett was The Girl Most Likely To . . . well, not date her little brother's baggage-burdened best friend, for starters.

For Tim, it wouldn't be smart to fall for Alice. For Alice, nothing could be scarier than falling for Tim. But Tim has never been known for making the smart choice, and Alice is starting to wonder if the "smart" choice is always the right one. When these two crash into each other, they crash hard.

My rating: 4 out of 5 stars
Like everyone else, I loved My Life Next Door and was super excited for its companion. And while The Boy Most Likely To is very different from My Life Next Door, I still very much enjoyed it. Instead of the swoony romance of My Life Next Door, we get a darker story more focused on the characters' individual issues. So if you're expecting another romance like My Life Next Door, you might be disappointed, but if you're open to The Boy Most Likely To being a darker novel more driven by character growth and serious issues, you will love The Boy Most Likely To just as much as the first book.
Tim's story was, by far, my favorite part of the book. Tim is such an intriguing character and unusual narrator in YA, and I loved getting to know him. I wish we could have gotten a little more background info on how he first got into drinking and all of that, but other than that, he is a fully-developed and complex character. His voice is compelling and distinct: his self-deprecating sense of humor shines through his parts of the novel, making even the more emotional elements funny and entertaining. His story takes a surprising twist that I can't really talk about without spoiling anything, and I really loved the whole story that develops from there on. This unexpected situation forces Tim to grow up a lot, and it provides a lot of emotional as well as funny scenes. The plot twists keep on coming in this storyline, making the novel a lot more suspenseful than I was expecting it to be.
Alice's parts weren't quite as surprising and unique as Tim's, but I enjoyed them nonetheless. Alice has been stepping in for her mother and taking care of the younger kids and everything around the house while her mother takes care of her father, which really shows the impact of what had happened in My Life Next Door. To me, Alice's story mainly seemed like a continuation of My Life Next Door, which isn't necessarily a bad thing because it lets readers return to the characters they loved and the storyline that fascinated them in My Life Next Door, but it does mean that Alice's voice isn't quite as strong as Tim's.
The romance, like I said, does not play as big a role in The Boy Most Likely To as one might expect from a companion to My Life Next Door. Tim and Alice already know each other in the beginning, but they slowly transition from their teasing semi-friendship to something more. I liked how this made it more of a slow-burn romance, with the attraction and chemistry building up while the main characters take forever to finally get together. But their relationship did bother me a little in the beginning, when it mainly consists of Tim continuously jokingly hitting on Alice, which just didn't sit right with me, and Alice finally admitting that she likes Tim too, without any deeper exploration of her feelings for him. But since the romance isn't the main focus of the book, this didn't bother me too much; I was mainly just enjoying both of their stories regardless of the romance.
I feel like The Boy Most Likely To was kind of falsely marketed as a romance; then again, I'm not sure how else you could market it considering the main storyline isn't revealed until later on. But if you're willing to accept that The Boy Most Likely To focuses on much darker issues and is very different in writing and in content from what we saw in My Life Next Door, it's a really great novel. I'm impressed by the versatility in Huntley Fitzpatrick's writing and can't wait to read what she publishes next!