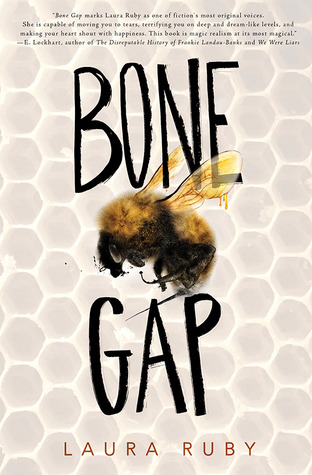 Title: Bone Gap
Author: Laura Ruby
Publisher: Balzer + Bray
Release date: March 3rd 2015
Pages: 368
Genre: Young Adult magical realism
Source: Edelweiss - I received a free eGalley of this book from the publisher in exchange for an honest review. Thanks!
Add to Goodreads | Purchase from Amazon
Everyone knows Bone Gap is full of gaps—gaps to trip you up, gaps to slide through so you can disappear forever. So when young, beautiful Roza went missing, the people of Bone Gap weren't surprised. After all, it wasn't the first time that someone had slipped away and left Finn and Sean O'Sullivan on their own. Just a few years before, their mother had high-tailed it to Oregon for a brand new guy, a brand new life. That's just how things go, the people said. Who are you going to blame?

Finn knows that's not what happened with Roza. He knows she was kidnapped, ripped from the cornfields by a dangerous man whose face he cannot remember. But the searches turned up nothing, and no one believes him anymore. Not even Sean, who has more reason to find Roza than anyone, and every reason to blame Finn for letting her go.

As we follow the stories of Finn, Roza, and the people of Bone Gap—their melancholy pasts, their terrifying presents, their uncertain futures—acclaimed author Laura Ruby weaves a heartbreaking tale of love and loss, magic and mystery, regret and forgiveness—a story about how the face the world sees is never the sum of who we are.
My rating: 4 out of 5 stars
I'm not sure what I was expecting going into Bone Gap, but it wasn't... this. I honestly don't know how to describe this novel; it's just really, really weird, in the best way possible. You could maybe compare it to Jellicoe Road, in the sense that you have no idea what's going for 90% of the book but it all makes sense in the end, or to Nova Ren Suma's writing, in the way both combine magical realism with contemporary mystery and superb characterization. But really, Bone Gap is unlike anything I've ever read before. It's a very unique book you'll either love or hate, and I happen to be on the love side.
Bone Gap took me a while to get into. It's very literary, and it's more challenging than most of the YA I read: it takes a while to process what's happening because half the time I didn't really know what was going on. And sometimes you have to stop and just admire the beauty of Laura Ruby's writing. So Bone Gap is definitely not a quick read. It also took me a while to get used to the narrative: Bone Gap is written in the third person and mainly told from the POV of the four protagonists, but every once in a while there's a chapter written from a secondary character's POV, or even some from the town's collective POV. Since I'm someone who usually prefers a simple first-person narration, this took a while to get used to, but the characters make it work.
The characters are what really makes Bone Gap come to life. Finn is an amazingly special character; he's incredibly fragile and vulnerable but fiercely loyal and strong at the same time, and I loved him from the first page on. How Finn sees the world differently from other people is excellently explored, and the reveal of his condition, or however you would call it, is fascinating, as it's something I'd never heard of before. I especially loved how that reveal is worked into his relationship with Petey. Their romance is perfectly handled and so realistic; I loved everything about them.
Even more so than Finn, I loved Roza and Petey. Both of their stories are fascinating and heartbreaking, albeit in very different ways. I really loved the contrast between the two female characters within the context of beauty: Roza is "the most beautiful" and might have to pay the ultimate price for it, while Petey is the ugly girl the whole town pities. The exploration of how beauty or a lack of it affects a person and is expressed in deep insecurities in both of these characters is expertly handled. I identified more with Petey's story, but both of them are very relatable and realistic. I absolutely loved both of these girls and very much appreciated the message the story sent in regards to beauty and gender.
The secondary characters all have their own stories too and seem almost as realistic and complex as Finn, Roza, and Petey. The only character that I didn't think was explored quite enough is Sean; I wish we had a couple more chapters from his POV in order to really understand him, and understand his relationship with Roza.
I'm still not sure what to make of the magical realism in Bone Gap. To be honest, it got a bit too magical for me at times; the ending seemed closer to paranormal than to contemporary. As someone who usually reads contemporary, I wanted a real-life resolution of Roza's disappearance, rather than the magical one we got. But that's a personal preference. If you like both contemporary and paranormal, this should be perfect for you! And I loved the characters and the writing so much that I didn't even really mind all the magic.
I am very, very impressed by Bone Gap. With a lyrical, enchanting writing style and eccentric, complex characters that I know will stay with me for a long time, Bone Gap is a unique story I absolutely loved. It's so weird and different that I don't even know how to explain it; you'll just have to experience the weirdness yourself. I can see how this book isn't everyone's cup of tea, considering how confusing it is at times, but it's a must-read for any fans of magical realism - or anyone who enjoys lyrical writing and unique characters, really.