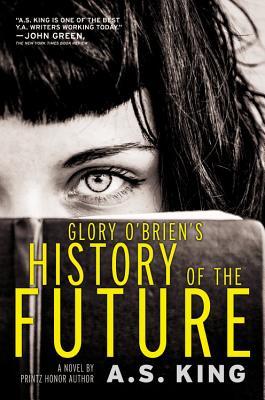 Title: Glory O'Brien's History of the Future
Author: AS King
Publisher: Little Brown BYR
Release date: October 14th 2014
Pages: 320
Genre: Young Adult
Source: BEA 2014
Add to Goodreads | Purchase from Amazon
Graduating from high school is a time of limitless possibilities--but not for Glory, who has no plan for what's next. Her mother committed suicide when Glory was only four years old, and she's never stopped wondering if she will eventually go the same way...until a transformative night when she begins to experience an astonishing new power to see a person's infinite past and future. From ancient ancestors to many generations forward, Glory is bombarded with visions--and what she sees ahead of her is terrifying: A tyrannical new leader raises an army. Women's rights disappear. A violent second civil war breaks out. And young girls vanish daily, sold off or interned in camps. Glory makes it her mission to record everything she sees, hoping her notes will somehow make a difference. She may not see a future for herself, but she'll do anything to make sure this one doesn't come to pass.
My rating: 4 out of 5 stars
I was ridiculously excited for this book. I would read anything with AS King's name on it, but the fact that the novel addresses feminism meant I knew I had to read this immediately. And luckily, Glory O'Brien's History of the Future doesn't disappoint - it made both booknerd-Hannah and feminist-Hannah happy, which is not an easy task. This is an important story, and I loved it.
Glory O'Brien is an amazing character. She's been through a lot, and she has a lot of issues to work out: her pain and her struggles are palpable throughout the story. She's easy to relate to, and I definitely felt for her. AS King really has a knack for writing messed-up characters in such an honest, realistic, and relatable way, and she's done it again in Glory O'Brien's History of the Future.
The secondary characters are well-written, too, even though there's a pretty small cast. I loved Glory's family storyline: her dad is another character I couldn't help but feel for, and I'm glad AS King focused so much on Glory's relationship with him. Even though she died long before this story starts, Glory's mother plays an important part as well; I loved getting to know her through her pictures and writing. Then there's Ellie, who is the most intriguing best-friend character I've read in a while; her background may seem kind of random, but it adds a lot to the story, and I love how their families' histories are connected. And of course, he's a love interest; even though the romance is only hinted at and never takes center stage, he is a fascinating character as well.
The whole seeing-people's-history-and-future-because-she-drank-a-bat thing is very strange, and I didn't know how I would feel about it going into the story. I still don't quite understand how exactly that works: how it's decided what parts of the history or future she can see, whose history and future she can see, and how exactly she saw these things. But because it's such a strange phenomenon within the story as well, and Glory doesn't understand these things either, it sort of worked. My only issue with it is that it seemed a bit too convenient that she almost always saw things related to the Second Civil War, rather than things in the more immediate future or just random, irrelevant details.
I'm a bit on the fence about the story of how the future unfolds in Glory's vision. The set-up is fascinating, and it definitely would have made for a great dystopian novel. But to me, it wasn't quite enough of a story: I know that's hard with this format, but I wanted more details on how, exactly, all of this happened; I wanted more details in the book Glory writes, even though I know Glory doesn't actually know any more details either. Then again, the story isn't necessarily about how all of this unfolds, even if there's a strong moral related to these events. It's just about Glory, really, and although it frustrated me we couldn't get to see more of the action in the future, I also appreciated to just get to see Glory evolve over the course of the novel.
And of course, the novel gets major brownie points because feminism. I don't think I've read a single YA book other than this one where the main character openly calls herself a feminist. I love love love how her whole family is all about feminism, and how Glory calls people out on their gender role bs. But being who I am, I did have a couple of issues with Glory's feminism. She constantly slut-shames her best friend Ellie, and she has a somewhat sex-negative attitude that I don't agree with, like when she tells Ellie not to show as much cleavage and when she immediately assumes that women in sexually explicit media have no self-worth. But I understand that that's part of the story, and nobody's perfect. And in terms of feminism, Glory O'Brien is so much better than the books I usually read that I can't even complain.
I did have some issues with the logic behind Glory's transmissions, and I wish the story of how this world gets so messed up had been explored more. Nonetheless, I really really loved this book: with powerful writing, complex characters, and a unique story (and references to feminism that made me happy), Glory O'Brien's History of the Future is a book you shouldn't miss.