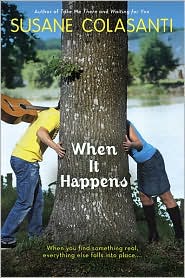 Title: When It Happens
Author: Susane Colasanti
Publisher: Viking Juvenile
Pages: 310
Release date: May 4th 2006
Genre: Contemporary YA; romance
Source: Bought at The Book Depository
Find out more:
Amazon
;
Goodreads
Goodreads description:
Sara and Tobey couldn't be more different. She is focused on getting into her first-choice college; he wants to win Battle of the Bands. Sara's other goal is to find true love, so when Dave, a popular jock, asks her out, she's thrilled. But then there's Tobey. His amazing blue eyes and quirky wit always creep into her thoughts. It just so happens that one of Tobey's goals is also to make Sara fall in love with him. Told in alternating points of view, Sara and Tobey's real connection will have everyone rooting for them from the minute they meet!
First sentence:
My rating: 3 out of 5 stars
The description sounds pretty average, but I'd heard great things about Susane Colasanti, so I thought When It Happens would be a great read. However, the average description fits the book - it's a pretty cute love story, but predictable and nothing special - everything about this novel is okay. That's not supposed to mean that a love story, if done well, can't make for a great read - I love romance, even if the plot is predictable, but only if the writing and the characters are good. And that's where When It Happens is lacking, in my opinion.
Like I said, the plot is okay, but very predictable. Shy, smart girl falls in love for the first time is nothing new, but the fact that Sara first falls for the wrong guy mixes it up a bit. However, it's obvious from the beginning on that Sara and Tobey will end up together. The smaller storylines concerning Sara and Tobey's friends are enjoyable, though.
Sara is an okay character. She's easy to understand and relate to, and she's very likeable, for the most part. She's shy, smart, works hard, and wishes to be popular - just a typical teenaged girl. Tobey's a pretty good character, too - he doesn't care about school and just wants to pursue his music - typical slacker guy. But that's my problem - both of them just represent a certain type of personality, but they don't feel like actual, multi-dimensional people. The rest of the characters seem like that, too - just sketches of characters, with no quirks that make them unique. But I have to say, Susane Colasanti did a great job at creating two distinct voices that are very different from each other, which isn't always the case in books with alternating perspectives.
I'm split on the romance. At times, it conveys the cute, first-love feeling - for example the scene with the boom-box had me smiling. But at others I just didn't feel their connection. Yeah, they talk about how amazing it is how much they have in common, but I just didn't feel it. The romance is okay, but it's not swoon-worthy.
One thing I really enjoyed in When It Happens is the humor. In both Sara's and Tobey's voices, the humor is great. Especially the dialogue between the two and the dialogue between them and their friends had me laughing out loud.
If you're looking for a quick, cute, fun read, this is it, but if you're looking for something more, I wouldn't recommend When It Happens - the characters aren't fully-developed and the plot is predictable. But I've heard great things about Susane Colasanti, so maybe I'll read one of her newer books and see if she's gotten better as a writer.